Emergency Communications Network Implements ECN Launcher Upgrade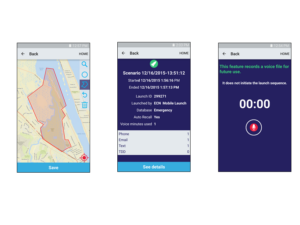 Ormond Beach, FL – [January 14, 2016] – Emergency Communications Network (ECN), North America's largest provider of emergency notification systems, has announced the launch of Phase 2 enhancements to its existing ECN Launcher application. These enhancements provide subscribers of the service with new and improved features for message management such as upgraded mapping tools, strengthened geographical selection capabilities, and advanced statistics.
The ECN Launcher app can be used with both the CodeRED and the SmartNotice solutions, making it an essential component to a successful emergency communication plan.  With this in mind, ECN has added features to make the solution even more sophisticated. "We are always seeking new and innovative ways to deliver added value to our clients," said Troy Harper, Product Manager for ECN and a former county emergency manager. "The ECN Launcher platform affords our clients with the ability to create and send alerts from any smartphone or tablet while on the go. This 'anywhere, anytime' access puts the power of real-time alerting for crisis management into the hands of first responders and authorized personnel so they may better communicate time-sensitive and potentially life-saving information to employees and residents."
With these enhancements, the ECN Launcher now comprises more advanced elements for message development than the previous version: authorized users have the ability to start and stop their critical message campaigns from any device if needed, campaign statistics are provided after completion to show the results of each connection attempt for on-the-scene and on the fly decision making, and the mapping interface includes new tools to allow more precision in defining the location for critical message delivery in the field.
The ECN Launcher is available for all operating systems (iOS, Android, and Windows Mobile devices) and can be quickly downloaded by authorized clients through iTunes, Google Play, and the Microsoft Windows Mobile App store. ECN continues to offer its clients training sessions on integrating these features into the organization's current emergency communication plan, and to answer any questions or provide ongoing support for 24x7x365 emergency assistance.
About Emergency Communications Network
Headquartered in Ormond Beach, FL, Emergency Communications Network (ECN) is North America's largest provider of emergency notification systems and mass notification systems. ECN provides two major notification services: CodeRED, for state and local government entities to deliver emergency and general messages to residents in specific geographic areas; and SmartNotice for staff and customer notification as an essential tool for business continuity and disaster recovery. ECN's technology solutions are used each day to effectively alert, inform and save lives. To learn more, visit onsolve.com.