Emergency Communications Network Unveils a New Look for its Communication Solutions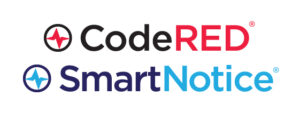 Ormond Beach, FL – [March 9, 2016] – Emergency Communications Network (ECN), North America's largest and most trusted provider of critical communications and emergency notification systems, has debuted a new look for its signature solutions CodeRED and SmartNotice. The new brand element closely ties the company's longstanding and rich legacy in the mass notification industry with its technological advances driving the evolution of alerting, helping it stand out from other similar services in the marketplace.
"ECN takes great pride in our company's heritage as the first private cloud-based mass notification system provider, forging the way in this very important and meaningful industry," said David DiGiacomo, President and CEO of ECN. "In order to continually provide public safety officials and agencies with the tools they need to effectively communicate with residents, staff, and stakeholders throughout emergencies and other significant events, we work diligently to stay ahead of new and emerging technologies, driving the use and delivery of alerts to new levels. Standing still as a technology company is a failure, so we have focused on bringing new innovative technology solutions to government agencies and private companies every day for over 15 years. Our new logo exemplifies our roots in critical communications and our ongoing mission to continue evolving to meet ever changing needs of public safety and business critical communications, always pushing the envelope forward."
The new logo is straightforward, exhibited as a circle encompassing a spark – an element the company attributes to its technology and innovation, which reside at the core of its continual critical communications process. The spark speaks to the origination of ECN, established as a result of destructive wildfires that burned throughout north-central Florida in 1998. As the need for critical communications continues to grow, so does ECN's role of providing the right connections and transparency between governments and businesses to their constituents. The right information must be distributed to the right individuals at the right time to ensure the greater likelihood of public safety.
As part of the company's ongoing transition to leading from the front, ECN has added its first Chief Technology Officer (CTO), Mr. Michael Ely. With a deep background in unified communications and emerging technologies, Ely brings a wealth of insights. "To remain at the forefront of technology, ECN is looking far ahead on the technology horizon and incorporating the most groundbreaking developments into our product suite to better support our clients," Ely said. "The great part of rebranding the company's signature solutions now is that it helps signify our focus on evolution and the daily efforts we make to improve our clients' connections to their residents, staff, and stakeholders."
As part of our continual commitment to providing the most robust and dependable solutions for government and businesses, clients are encouraged to contact the Client Support Team directly to address any questions they may have, or to learn more about how to obtain the new logo to promote community enrollments, press releases, or media articles.
About Emergency Communications Network
Headquartered in Ormond Beach, Florida, Emergency Communications Network (ECN) is North America's largest provider of SaaS-based critical communication and emergency notification systems. Whether in the event of mission-critical business events, emergencies, or routine operational announcements, ECN provides the market with two core solutions: CodeRED is designed for state and local government entities to deliver emergency and general messages to residents in specific geographic areas, and SmartNotice focuses on staff and customer notifications, serving as an essential tool for business continuity and disaster recovery. ECN's technology solutions are used each day to effectively alert, inform, and save lives – when seconds count. To learn more, visit onsolve.com.