OnSolve Wins 2019 Business Continuity Institute (BCI) Americas Award
Global leader in SaaS-based critical communications recognized for the development of new and innovative capabilities that enhance clients' business continuity and resilience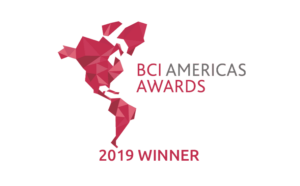 ORMOND BEACH, FL – April 29, 2019 – OnSolve, a leading global provider of Software-as-a-Service (SaaS) based critical communication solutions for businesses and government agencies of all size and type, announced today that it has won the Business Continuity Institute's Continuity and Resilience Innovation Award at the 2019 BCI Americas Awards.
The BCI Americas Awards is an annual celebration that recognizes the best, brightest and most innovative companies in the continuity and resilience industry across the United States. The Americas Awards are one of seven regional awards hosted by the BCI each year, which culminate in the annual Global Awards, held later in the year during the Institute's annual conference in London, England.
OnSolve was recognized for its three core collaboration solutions: Send Word Now, MIR3 and CodeRED, which provide customers with the ability to instantly launch critical communications via multimodal methods to groups of any size across any geographical area. Over the past year, OnSolve reaffirmed its commitment to helping organizations communicate quickly and securely by unveiling a host of innovative features, including employee safety and reporting capabilities, an SMS opt-in program used by government agencies, and an approval workflow to reduce the risk of inaccurate or unauthorized alerts.
"To truly move the needle when it comes to business continuity and resiliency, it's not enough to simply 'innovate'; equally critical is ensuring that our customers can practically apply new technologies to the complex challenges and threats they face every day," said Ann Pickren, President, OnSolve. "It is an honor to be recognized in this category for the second time in three years, and we look forward to the Global Awards competition later this year."
OnSolve is currently being considered for the same category for the BCI Global Awards. In 2017, the company won both the Americas Awards and Global Awards for Continuity and Resilience Innovation of the Year.
About OnSolve
OnSolve is a leading global provider of SaaS-based critical communication solutions for enterprise, SMB, and government customers. The company's cloud-based software communications platform provides seamless and easy-to-deploy solutions for the exchange of critical information among organizations, their people, devices and external entities with use cases designed to save lives, enhance revenue and reduce costs. More information can be found on the company's website at www.onsolve.com.