Critical Event Management
Defined: A critical event is a disruptive incident which poses serious risk or threat to assets or people. Critical event management (CEM) gives an organization or emergency management team the capabilities to manage critical events — and protect people, assets and operations. At a basic level, a CEM platform consists of three elements: risk intelligence, mass notification and incident management.
Redefined: Simply put, modern CEM is faster and more accurate. It takes those basic capabilities and optimizes them to keep up with an increasingly dispersed, complex and mobile world, a steady rise in the frequency and intensity of critical events, and the explosion of available data and data sources. It adds a powerful layer of artificial intelligence to risk intelligence — and builds on a strong foundation of critical communications and incident management. In doing so, modern CEM enhances the ability of security teams, travel teams and executives to understand and proactively respond to critical events throughout the entire business resiliency lifecycle.
Why it matters
Before a crisis makes headlines, crisis management teams and executives will know about it. CEM provides both the best intelligence available and mobile-first mass notification tools to give everyone the ability to mobilize, alert and track people, assets and the event itself as it unfolds at home or abroad.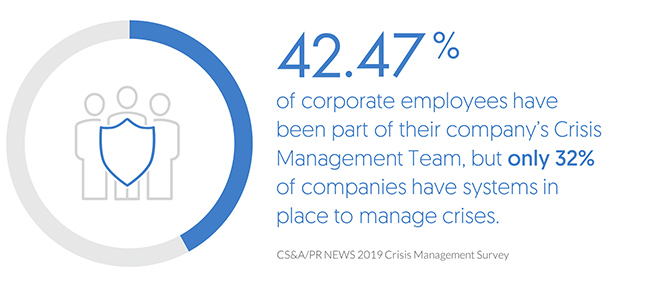 AI-Powered Risk Intelligence
Risk intelligence, sometimes also called situational awareness, is the ability to aggregate complex data on any given situation, tracking feeds from thousands of sources, sorting through the noise and then synthesizing and distributing the data so organizations, residents or employees can act on it — in real time.
Artificial intelligence: In the context of critical event management, artificial intelligence (AI) is the high-powered engine that gives a CEM platform the ability to identify and understand relevant critical events in near real-time. In situations where every second counts, AI can make a critical difference.
Actionable intelligence: Data is only as good as its timing, accuracy and relevance. Actionable intelligence provides the fastest, most accurate and most relevant picture of critical events around the world. It's "actionable," because response teams can use it to take action. Actionable intelligence relies on the super-computing power of AI to sift through massive amounts of event data to pinpoint only those critical events that may impact an area's residents or an organization's employees, operations, and assets.
Augmented intelligence: A security analyst's job is to stay on top of critical events, anticipate their impacts, and respond effectively. Yet that job is becoming increasingly difficult to do, thanks to the daily volumes of data that analysts are expected to review — an average of 200,000 words today and an estimated 2 million words by 2025. Augmented intelligence uses AI to augment the increasingly complex job of analysts, freeing them up to work smarter and respond better to critical events.
Why it matters
AI-powered situational awareness gives crisis management teams a vital edge over conventional manual analysis. It provides the most reliable and relevant incident data from every relevant source — government, weather and geological services, local and international press and social media —to give you a comprehensive understanding of what's happening in the world and how it impacts the things that matter to you. Intelligent situational awareness can identify multiple classes of adverse events and hundreds of thousands of unique incidents with pinpoint accuracy and calculate the risks significantly faster, helping you save time, money and lives.
Critical Communications
Critical events pose a threat to public safety and business continuity. Critical communications let response teams send targeted, time-sensitive notifications to every person they need to reach. It can deliver geo-targeted, multi-language messages via phone, email, SMS, desktop alerts, IPAWS, voice and more.
Why it matters
A reliable communication source is critical to protecting public health and ensuring public safety during a crisis. Once the crisis is over, secure notifications and alerts also help ensure business continuity and disaster recovery.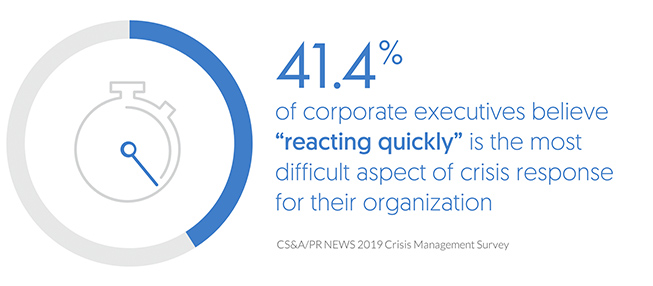 Incident Management
When a crisis happens, no one has time to download, study and digest a crisis communications plan. Advanced incident management systems accelerate and simplify crisis response. Using a mobile-first platform, they allow response teams to mobilize immediately via real-time visibility and targeted coordination. They provide secure, interactive instructions that are easy to update and distribute. They also feature a chronological audit trail of every action taken before, during and after an event.
Why it matters
Customized emergency response plans and recovery procedures minimize downtime and mitigate disruptions. As residential areas and organizations worldwide face an increase in the number and variety of threats (both natural and human-made), a broader approach to incident management is needed. Disasters require emergency teams to be prepared to respond quickly and accurately, with the ability to effortlessly connect and collaborate no matter where or when an event occurs. Once the crisis is over, built-in audit trails help improve future response.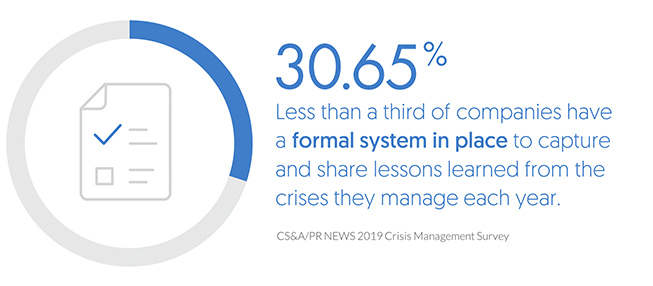 Who should use modern critical event management?
Any business that needs to protect the safety of its employees and facilities or government agency responsible for keeping the public safe. Anyone who oversees business continuity, communications strategy or IT security for an organization or local, state or county agency needs critical event management. Modern critical event management helps response team keep people and assets safe and create better outcomes.