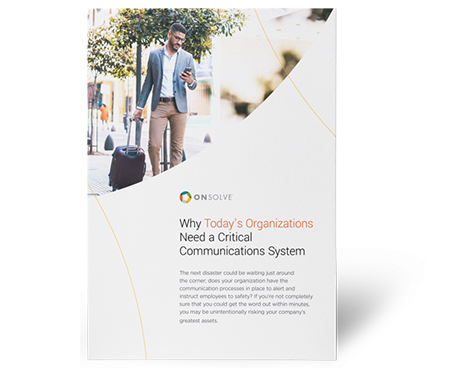 Why Today's Organisations Need Critical Communications
Crisis situations are unpredictable. Can your organisation quickly and reliably alert and instruct employees to safety? Learn how a critical communications product can help.
What Makes Us the Industry Leader in Critical Communications?
Rapid Response.
Targeted Approach.
Ensure the right people get the right information when they need it most.

Deliver urgent m

essages in 190 countries and over 30 languages.

Use

geofenced

alerts to reach only those who may

be impacted by a critical event.
Versatile Solution.
User-Friendly Interface.
Send alerts via phone, email, SMS, desktop alerts, voice and more.

Increase efficiency with an intuitive dashboard and a product that suits your specific requirements.

Reduce cognitive load in stressful situations with our simplified, step-by-step alert-send

process.
Deep Experience.
Superior Support.
Tap into expertise honed from over 60 years of public and private sector work.

Gain timely advice from a 24 hours a day/7 days a week/365 days a year support team to assist in crisis situations.

Rely on the pioneer of the mass notification industry, with the longest history of successful implementations.
Supports a Mobile-Centric World
Put the power of critical communications into the palm of your hand. Create, edit and send notifications directly from the mobile app. Reach employees, volunteers and other stakeholders wherever they are located.
Keeps Your Community Aware
Mass notification is critical during natural or man-made disasters when every minute counts™. Sharing updates about weather and other emergencies with individuals is simple and fast with OnSolve.
Learn how your organisation can use Critical Communications, Risk Intelligence and Incident Management together as core capabilities of the OnSolve Platform for Critical Event Management.