What is an Automated Phone Call System, Dialer, or Calling Service?
An automated phone system is any telephone system that interacts with callers without input from a human other than the recipient. The difference between OnSolve's One Call Now and traditional automated phone systems is that we use a technology application, instead of hardware, to make the calls. With our phone system, there is no hardware or software to install. Our call system accepts bulk imports of telephone numbers from a spreadsheet, database, or contact management system. The system plays a pre-recorded message when it detects a human on the line. If the call reaches a machine or voicemail system, it can deliver an alternate message.
Interested in knowing more?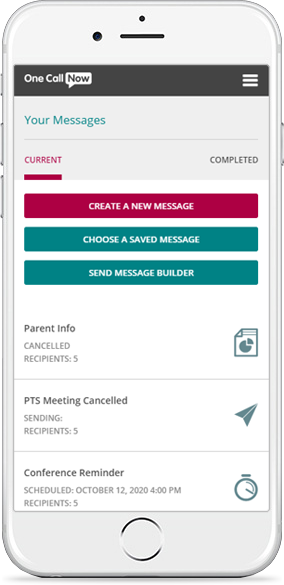 One Call Now messaging system by OnSolve
How One Call Now works for Mass Calling
Auto dialing phone systems use software and a modem to let a computer automatically dial a list of phone numbers. An Automated Calling Service makes sense in situations where many outbound calls, texts or emails are necessary, and speed and accuracy are important. One Call Now's automated dialing service makes it easy to load contacts, create and save messages, and begin broadcasting. When considering switching from traditional phone methods to an automated call system is clear. The time you save could be a lifesaver when an emergency strikes and seconds matter.
Complete the form for more information on features, FAQs, and account setup.
Download The How It Works Brochure
Create
---
Add and Manage Contacts
Add or edit them manually
Import them from a spreadsheet
Synchronize information with an existing database
Send
---
Choose Who, How, and When
Choose who you want to receive the message
Pick the channel: voice message, text message or email (or all 3)
Hit "send" for immediate delivery, or schedule to deliver later
Report
---
Get Useful Feedback Reports
Who received your message and when
Answers to any questions you asked in your message
Any numbers or addresses that were undeliverable
Our Automated Phone Service is your Solution
Do you need to share an emergency notification, a routine alert, or a group automated message? Just record your message, choose your recipients and we will deliver automated calls to everybody on your list. Our detailed reporting will confirm delivery and explain unsuccessful attempts. We host our automated call system on secure servers and guarantee 100% up-time to automate phone calls and texts and distribute them within minutes, to any group, large or small. Every day, schools, religious organizations, sports teams, businesses, and property managers rely on our voice call systems to deliver important information; so can you.
Two-Way Messaging Ensures Engagement
One Call Now's automated dialing system alerts get the word out quickly, our two-way communication features allow you to coordinate with others and gain a 360-degree perspective regarding the situation. Two-way communication is beneficial when you need a rapid response from message recipients. One Call Now's two-way communication makes it easy for contacts to reply to questions with their keypads, giving you the ability to make informed decisions based on real-time updates. You can also use two-way communication with routine automated call services like appointment reminders and staffing open shifts. In addition, our automated language translations make sure everyone hears and understands your messages.
You can use our two-way communication service to:
Issue payment and past-due bill reminders
Send appointment confirmations and reminders
Automatically confirm appointments
Schedule seasonal service calls
Renew service agreements
Inform customers of route or service changes
Alert the congregation of funeral services or prayer requests
Our automated calling system doesn't stop when a message reaches its target. One Call Now's automated calling, texting, and email services create reports you can review in real-time.
Customize your voice messages
One Call Now enables you to record voice messages and save them for future use. We also provide text-to-speech solutions with many realistic voices. Is your group is multilingual? We'll translate your message automatically into a system generated call in the best language for each contact based on their preferences. One Call Now's message personalization feature, "Message Builder" allows for the easy personalization of messages including the recipient's name, balance due, dates, appointment time. With Message Builder, you can include virtually any field from your contacts database in the message body.
Setting up Your Automated Messages
Putting a message together with our system is fast and easy. With just a few clicks, you can set up and send an automated message.
Compose Your Message – You can write a message for distribution by e-mail, SMS or text-to-speech. For voice messages, you'll record the audio for distribution by phone call.
Choose Your Recipients – Choose the recipients you want to reach. You can choose recipients individually or by groups.
Schedule Your Delivery – You can send your message immediately, or at any time in the future.
That's it; it's that easy. Our reporting tools give you the power to track every message. You can be sure your message is being heard with One Call Now.
More Applications for Our Automated Phone and Texting Service:
The uses for our automated calling and messaging systems are only limited by your imagination. Here are just a few additional applications:
Promote special events
Solicit customer feedback
Comply with quality, safety, and operational standards
Send emergency phone blasts
Announce training and gather sign-ups
Provide high-touch service at a low-touch price
One Call Now By OnSolve Has Everything You need To Effectively Message
Unlimited Messaging
Plans include unlimited calls, texts, push notifications, and emails for one annual price with no per-call or long-distance charges.
Flexibility
Send messages in multiple formats according to the urgency of the situation and contact preference of text message, email, phone call, or mobile app. Senders can also select multiple formats for urgent messages.
Targeting Messages To The Right Contacts
Create an unlimited number of contact subgroups— from one contact to thousands—for targeting your audience with relevant communications. Additional filter fields allow users to dynamically create groups.
Text-To-Speech
Don't like the sound of your own voice? Our text-to-speech feature converts typed text to an audio file and delivers your message in your choice of natural sounding voices.
Smartphone App
Download our free smartphone app for message sending ease.
Real-Time Reporting
See continuous status updates as soon as your message is sent. Know who was successfully reached, gain access to polling responses, and manage erroneous phone numbers with immediacy.
Import Contacts
Upload contacts from CSV or spreadsheet files, or by exporting or integrating with an existing database program such as Salesforce or Outlook.
Audio Library
Pre-record messages and save them for use any time. This feature is ideal for both standard and recurring events.