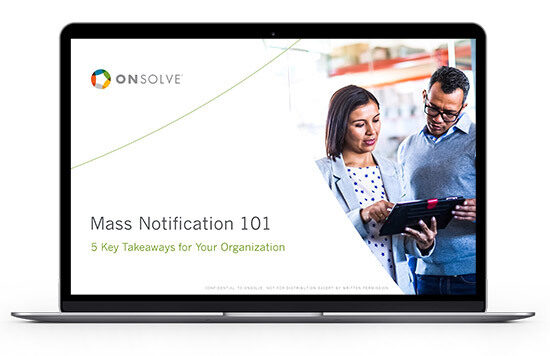 Mass Notification 101
The mass notification system (MNS) has quickly become must-have technology for organizations to strengthen communications with all their stakeholders. Discover 5 key takeaways for your organization.
Why Use OnSolve for Customer Notifications?
While good marketing attracts customers, excellent communication ensures they keep coming back. And the very best communication is targeted. Need to alert your customers about a special offer? Want to invite them to a promotional event? OnSolve One Call Now allows you to communicate with your customers using customized voice messages, texts and emails.
Don't spend big bucks on an "all-purpose" advertisement. Instead, send a personalized update—it's quicker, more effective and more affordable.
Deliver Notifications to the Right Customers
Create an unlimited number of contact subgroups— from one contact to thousands— so that you can target your audience to receive only specific, relevant communications.
Spend More Time on More Valuable Tasks
Eliminate manual processes and reduce the chance of human error by using automated alerts to remind patients about appointments, notify customers of bills past due and more.
Reach People on Any Device, In Any Language
Send messages in multiple formats according to the urgency of the situation and the contact's preference for text, email, phone call, or mobile app. Deliver alerts in any language.
Assess Effectiveness with Real-Time Reporting
See continuous status updates as soon as your message is sent. Know who was successfully reached, gain access to polling responses and manage erroneous phone numbers immediately.