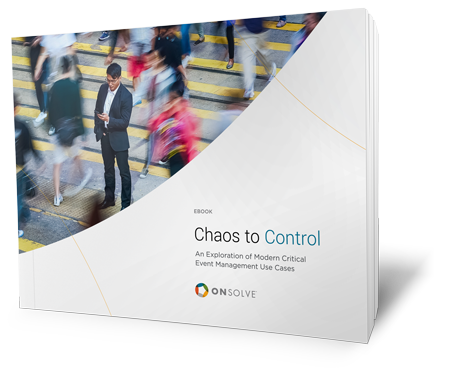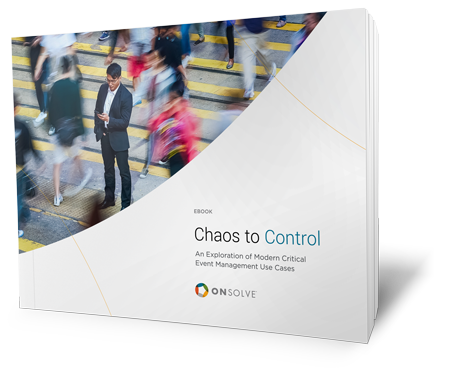 Chaos to Control
A crisis can take us from calm to chaos in seconds. Whether it's a hurricane or a wildfire, a plane crash or a plant explosion, a local outbreak or a global pandemic, your organization needs the capabilities to bring more control to chaos — now more than ever.
What Makes Our Platform Unique?
Every minute counts™. That's why OnSolve prioritizes speed, relevance and usability to help our customers achieve the best possible outcome when a critical event occurs.
Actionable Intelligence. Faster Response.
Bypass inefficient human analysis using an AI engine.
Communicate faster to the right people on any device.
Quickly activate crisis response plans and collaborate in real time.
Relevant Information. Informed Decisions.
Filter out irrelevant data to make informed, proactive decisions.
Target alerts to people based on their exact location.
Deliver customized incident plans and task assignments to ensure appropriate action.
User-Friendly Interface. Anywhere Activation.
Identify all active incidents at-a-glance using the risk intelligence dashboard.
Enhance the alert send process to improve response times.
Access business continuity plans anywhere via a mobile app.
Leverages AI-Powered Risk Intelligence
Continuously scan tens of thousands of global data sources to detect and assess critical events to speed up crisis reporting and response times. Dynamic maps show potential impacts to people, places and property and allow for proactive measures.
Drives Seamless Critical Communications
Ensure employee safety and business continuity, swift disaster recovery and more through reliable communication. Maintain contact data seamlessly by integrating with existing business systems to streamline processes.
Delivers Adaptable Incident Management
Turn static emergency response plans into interactive mobile guides for rapid collaboration. Real-time monitoring and reporting allow you to respond and hone procedures on-the-fly as recovery unfolds.