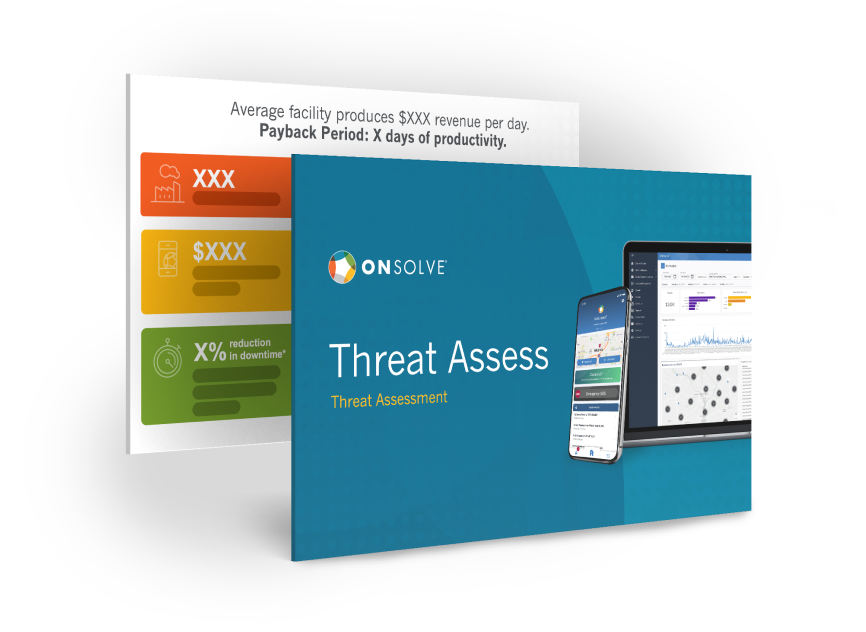 Get A Complimentary Threat Assessment
Are you concerned about the security of your organization's locations? Do you want to proactively identify potential threats and vulnerabilities? Request your OnSolve Threat Assess complimentary threat assessment of two locations covering the top five physical threat types for each.
Data-Driven Security Decisions
Risk Insights data is sourced from our analyst vetted AI-powered Risk Intelligence offering, featuring tens of thousands of verified sources globally and years of historical reports of risk events.
Trends Revealed.
Enhance Preparation.
Create reports to help identify top concerns and overall risk trends tailored to your goals.
Record, track and define risks across your organization to anticipate potential impacts.
Integrate these risk trends into overall strategy, crisis prevention and management.
Actionable Data.
Mitigate Risk.
Quickly generate reports with historical data and physical threat statistical information.
Target specific locations, dates and times to provide faster security recommendations.
Provide actionable reports created using data from our AI-powered Risk Intelligence solution.
Historical Visibility.
Understand Threats.
View an intuitive dashboard of reports.
Narrow research by date and time or region of interest.
Customize reports with visual graphs and charts to share with stakeholders.
What is Risk Insights?
Risk Insights is a powerful software-as-a-service (SaaS) capability of the OnSolve Platform designed to analyze and evaluate potential threats to your organization. Our platform combines advanced algorithms, real-time data, historical data and AI-analysis to deliver comprehensive threat assessments.
Risk Insights can help your organization provide:
Geographical analysis
Historical Trends
Risk Profiles
Threat and vulnerability assessments
Acquisition due diligence
Capacity expansion
Business intelligence/ business development
Duty of care
Operational resilience
Financial planning
Employee training
Physical security resource allocation
Loss prevention
Expansion opportunities
Supply chain risks
How Does Risk Insights Work?
Conduct Geographical Analysis
Generate reports by targeting facility locations, filter by risk categories and specific timeframes. View data presented in easy to digest charts and shift the timeline and map distribution to segment or dissect this data anyway you need.
Identify Historical Trends
Identify and explore statistics and trends of physical threats that occurred in the past around a specific geography to improve forecasting of what may happen in the future.
Better Understand Risk Exposure
Export data and transfer into another application to build presentations for leadership. Easily present the most significant risks identified through the risk assessment process to help teams make better security decisions or recommendations.