Introducing OnSolve Threat Assess
A Complimentary
Threat Assessment
Are you concerned about the safety and security of your organization's locations? Do you want to proactively identify potential threats and vulnerabilities? OnSolve is here to help with historical reporting from the largest dataset of physical risk in the industry. Using OnSolve Risk Insights, we're offering you a free threat assessment for two of your locations.
How does it work?
Fill out our online form here
An OnSolve representative will reach out to collect your two address locations and to schedule your threat assessment
Meet with our OnSolve experts to review your assessment and leave with a copy
You'll see just how fast and easy it is to get historical threat data on your own with Risk Insights.
What is Risk Insights?
Risk Insights is a powerful software-as-a-service (SaaS) capability of the OnSolve Platform designed to analyze and evaluate potential threats to your organization. Our platform combines advanced algorithms, real-time data, historical data and AI-analysis to deliver comprehensive threat assessments.
Risk Insights can help your organization provide:
Geographical analysis
Historical Trends
Risk Profiles
Threat and vulnerability assessments
Acquisition due diligence
Capacity expansion
Business intelligence/ business development
Duty of care
Operational resilience
Financial planning
Employee training
Physical security resource allocation
Loss prevention
Expansion opportunities
Supply chain risks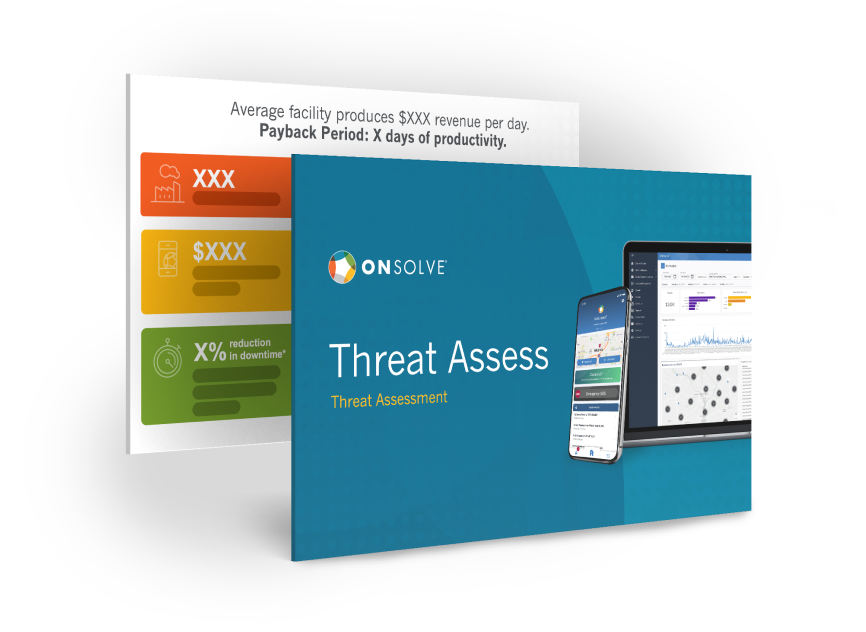 Get Your Free Threat Assessment
By signing up for our free threat assessment, you will receive a detailed report that covers two of your chosen locations. You'll meet with OnSolve experts to hear about the top five risk event types for each location. These event types include but are not limited to natural disasters, public health emergencies, shootings, criminal activity, civil unrest and more.
assess your threats