Part of building a thriving faith community is communicating effectively with your congregation and with potential new members.
Communication should go far beyond a weekly sermon. Better outreach is one key strategy to increase attendance and engagement. Despite good intentions, churches, synagogues and other faith-based communities often struggle with communicating effectively to members and guests.
Questions? Contact Us At: 877-698-3262
Common Questions and Information
Can Technology be the Answer to Better Communications For Faith-Based Communities?
In the past, a manual phone tree was the standard approach to group communication. In this system, participants pass messages on to their assigned groups. This manual approach works, but offers many chances for mistakes to happen and be passed along.
One Call Now simplifies sending fellowship announcements, volunteer requests, prayer chain requests, event reminders, funeral notifications and dozens of other important messages with a sophisticated, affordable church calling system. One Call Now gives you the benefits of an automated phone tree system at a budget friendly price.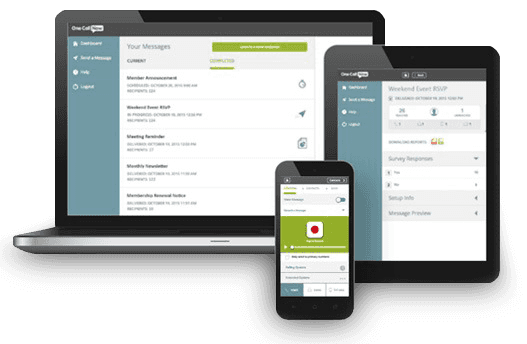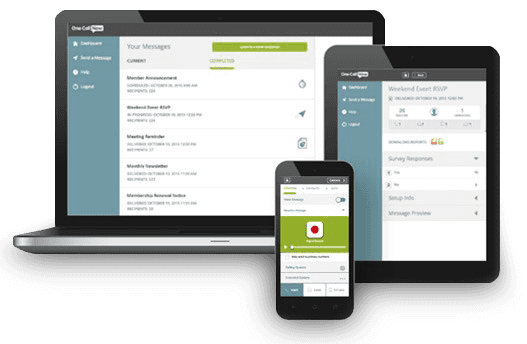 How Houses of Worship Use Our Church Notification System
There are many ways you could use our church notification system. Here are some ideas:
Prayer requests and prayer chains
Weather and closing notices
Bereavement announcements
Welcome and outreach messages to new members
Stewardship campaigns information and status updates
Communication about volunteer opportunities
Religious education updates
One Call Now is 100% cloud-based
It requires no hardware or software installation. You can send voice, SMS text and email messages any time. Because you have complete customization, our church communication tools let you leverage the technology without becoming cold or impersonal. When your message matters, One Call Now will deliver it quickly and reliably.
Increase Attendance with Mass Messaging
Message specific groups, large or small, and track detailed information with real-time reports. Keep everyone in the loop and stop relying on your members to spread information. When you need to alert your congregation, our church messaging systems are the tool to use. Our tools are easy to use, reliable and efficient so you can focus your efforts on ministry.
Web-Based Robocall Software for Churches Lets You Make Church Announcements Anytime, Anywhere
While unsolicited robo-calls are an unfortunate problem, an opt-in robo-call system can be a useful tool. Our robo-call system makes it easy to keep your entire congregation updated with the latest announcements, prayer requests and updates.
Send messages by voice, text, email, social media, and even app notifications
Target small groups using the sub-group feature
Save time by setting up additional messengers that can send messages to specific groups
Free Survey Results Download:
Safety And Security Report For Faith Communities
How can you improve communication?
One Call Now's automated calling system for churches is easy to set up and manage. Best of all, it's affordable! You won't need to purchase extra hardware, software, or phone lines—and you won't need to hire an IT team. The benefits of using automated calling for churches don't end here. With One Call Now, there are no charges for long-distance, ring time or redials. Plus, there are no hidden support costs, or contracts. Finally, you can change your plan any time. Our communication specialists are here to help you identify your communication issues and find solutions. Have questions? No problem. Let us help you solve your church announcements and communication needs. Call us today to speak with a communication specialist familiar with the needs of churches and other faith-based communities.