Learn how simple it is to improve your communication with One Call Now.
Download the brochure to learn:
Answers to the most common FAQs
Descriptions of One Call Now system capabilities
How easy it is to set up and send a message with a software walkthrough
Complete the form to learn how you can improve communications for your business.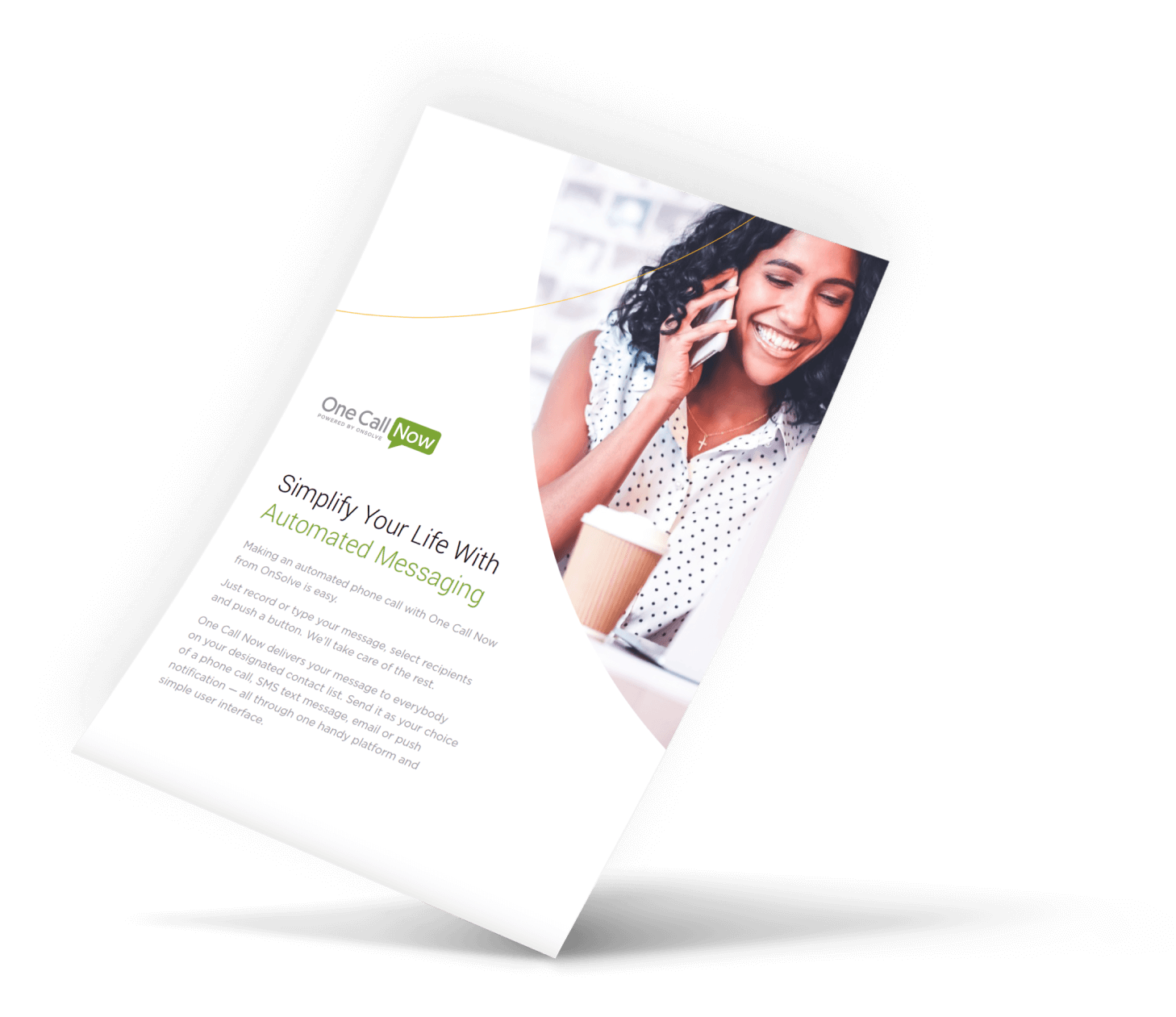 Download the How It Works Brochure
Is One Call Now Easy to Use?
Yes! Just record or type your message, select recipients and click a button. We'll take care of the rest. One Call Now service delivers your messages to everybody on your designated contact list. Send messages as your choice of a phone call, SMS text message, email or push notification.
Create
Manage Contacts
Add or edit manually
Import from a spreadsheet
Synchronize information with an existing database
Send
Create a New Alert
Choose who you want to receive the message
Pick the channel(s) voice, text or email
Hit "send" for immediate delivery, or schedule to send later
Report
Pull A Report
See who received your message and when
Compare responses to any questions you asked
Review any contacts that were undeliverable
One Call Now Features
One Call Now offers everything you need to effectively message, including:
Unlimited Messaging
Plans include unlimited calls, texts, push notifications, and emails for one annual price with no per-call or long-distance charges.
Flexibility
Send messages in multiple formats according to the urgency of the situation and contact preference of text message, email, phone call, or mobile app. Senders can also select multiple formats for urgent messages.
Smartphone App
Download our free smartphone app for message sending ease.
Import Contacts
Upload contacts from CSV or spreadsheet files, or by exporting or integrating with an existing database program such as Salesforce or Outlook.
Targeting Messages to the Right Contacts
Create an unlimited number of contact subgroups— from one contact to thousands—for targeting your audience with relevant communications. Additional filter fields allow users to dynamically create groups.
Text-To-Speech
Don't like the sound of your own voice? Our text-to-speech feature converts typed text to an audio file and delivers your message in your choice of natural sounding voices.
Real-Time Reporting
See continuous status updates as soon as your message is sent. Know who was successfully reached, gain access to polling responses, and manage erroneous phone numbers immediately.
Audio Library
Pre-record messages and save them for use any time. This feature is ideal for both standard and recurring events.
Is it easy to create and send messages?
Yes! It only takes a minute or two to message tens, hundreds, or even thousands of contacts via your internet-connected device, our mobile phone app (Android and iOS), or phone.
How much does it cost?
Less than you think, thanks to a customizable plan that fits your precise needs with only the features you will actually use. Our customers routinely save money over traditional communication methods, such as creating fliers, mail notices, bulletins and phone trees. And because efficiency is built into your plan, One Call Now won't drain your budget. Just give us a call or complete a request and we'll be happy to suggest a plan for you.
How do I know my broadcasts have been received?
One Call Now customers receive reports containing receipt information for every message they send. Voice, text and email messages all have delivery confirmation. Additionally, voice messages allow users to identify whether the notification was received by a person or a voice mail.
How do I get started? How long does it take?
You can send messages the same day you purchase a plan. It's as simple as logging into a website or making a phone call.
What types of devices can I use to send my messages?
You can use:
Any phone (cell or landline)
Any internet-connected device, including tablets
The One Call Now mobile app
With this level of flexibility you can send an alert from almost anywhere, anytime.
How do recipients receive my messages?
One Call Now messages can be received on:
Any phone (mobile or landline)
Any internet-connected device, including tablets
Messages are receivable as:
Phone calls
SMS text messages
Emails
App push notifications