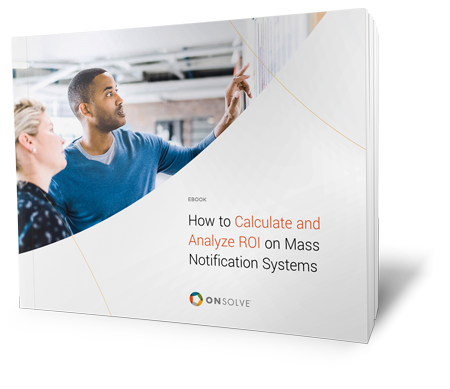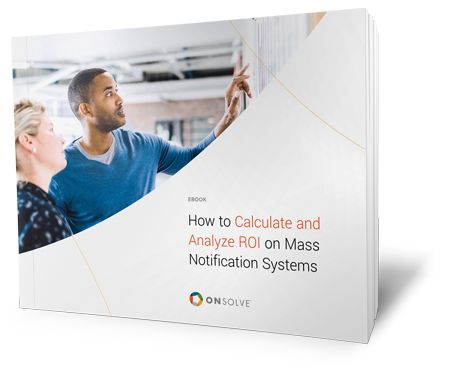 How to Calculate and Analyze ROI on Mass Notification Systems
Learn how your organization will benefit from a mass notification system and get the most out of your investment.
Why Use Mass Notification from OnSolve?
In a crisis, your people need to know what's happening, what actions to take and how a situation is evolving in real time. OnSolve One Call Now helps organizations send time-sensitive mass alerts across multiple channels to inform, engage and protect people.
Effective Messaging. Targeted System.
Use automation to proactively define crisis scenarios that will trigger mass notification without human intervention.
Save time and money by reaching the right groups, every time.
Detect events early with risk intelligence and trigger a pre-defined workflow, alerting necessary staff and groups.
Fully-Integrated. Mobile-Centric.
Expand functionality with pre-built API integrations to add notification and alerting features to any business system.
Initiate multimodal notifications through any device, including phone, email, SMS, desktop alerts, IPAWS, voice and more.
Reach residents, employees and all stakeholders quickly, no matter where they are located.
Industry Leading. First-rate Support.
Rely on a company with the longest history of successful implementations.
Achieve successful outcomes during a crisis with the largest and most-reliable mass notification providers in the world.
Gain time-sensitive help from a support team that's available 24/7/365 to assist in any situation.
Urgent Alerts Reach the Right People
Featuring a seamless integration of notification features, the intuitive solution allows you to synchronize data and automatically update contact information. Geo-targeting ensures you reach only those impacted by the crisis.
Access From Any Device
Created for a mobile-centric world, emergency notifications can be distributed from anywhere. The user-friendly mobile app allows you to reach employees, residents, stakeholders and more wherever they are located.
Keeps Your Community Informed
Effective emergency notifications are critical during crisis events when acting fast can be the difference between life and death. OnSolve makes sharing updates about emergencies fast and easy with its streamlined interface.