Save Time With Mass Calling and Mass Texting
Mass calling, sometimes referred to as "robo calling" isn't used solely for political campaigns and telemarketing. Everyday thousands of businesses, churches, schools, and other organizations use our mass calling and texting service to reach their contacts for a variety of reasons:
Emergency alerts
Appointment reminders
Payment reminders
Employee announcements
Shift recruiting
Schedule changes
School cancellations
Interested in knowing more?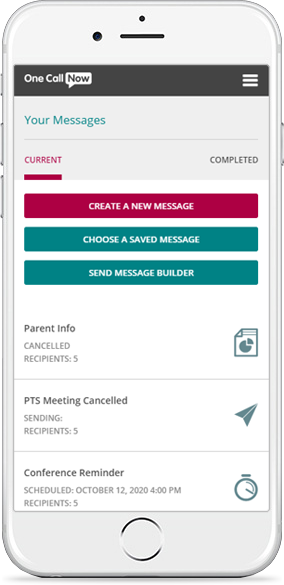 One Call Now messaging system by OnSolve
How One Call Now works for Mass Calling
Just record or type your message, select recipients, and push a button. We'll take care of the rest.
One Call Now delivers your message to everybody on your designated contact list. Send it as your choice of a phone call, SMS text message, email, or push notification — all through one handy platform and simple user interface.
Complete the form for more information on features, FAQs, and account setup.
Download The How It Works Brochure
Create
---
Add and Manage Contacts
Add or edit them manually
Import them from a spreadsheet
Synchronize information with an existing database
Send
---
Choose Who, How, and When
Choose who you want to receive the message
Pick the channel: voice message, text message or email (or all 3)
Hit "send" for immediate delivery, or schedule to deliver later
Report
---
Get Useful Feedback Reports
Who received your message and when
Answers to any questions you asked in your message
Any numbers or addresses that were undeliverable
Why Choose a Mass Calling and Texting Service?
If you are still relying on only mail or even email to get your message out, chances are your message isn't being received or read in a timely manner. A mass calling and texting service allows you to get your message into your contact's hands in minutes. Also, a mass calling service like One Call Now, provides reports so you can be sure your message was received and heard.
Here are some statistics that can't be ignored:
95% of Americans own a cell phone, and 77% of those are smart phones.
97% of American adults text weekly.
On average, Americans text twice as much as they call.
Texts have a 99% open rate.
95% of texts will be read within 3 minutes of being sent.
Mass Texting
Quickly sending tens or hundreds of text messages is a hassle. Yet, texting is one of the most effective ways of ensuring a message is seen. Fortunately, mass texting with One Call Now is simple and fast. What's more, your text message can also be broadcast as an email and phone call, ensuring even greater coverage. All this from the same simple interface or our mass calling app. Like calling, mass texting enables you to create one message and quickly send it via SMS text to a list of contacts, in multiple languages if required. The critical difference between regular text messaging and a mass texting service? The ability to save common messages, insert custom text into each message, and easily define delivery groups.
Mass Messaging
Mass messaging broadcasts a pre-recorded message to a list of contacts without the need to manually dial each number. One Call Now's mass messaging platform makes it easy to broadcast messages via mass calling, mass texting, and mass email from a computer, tablet, your phone, or an app. One Call Now delivers these messages within minutes, and also provides the ability to deliver a customized message if the call reaches voicemail.