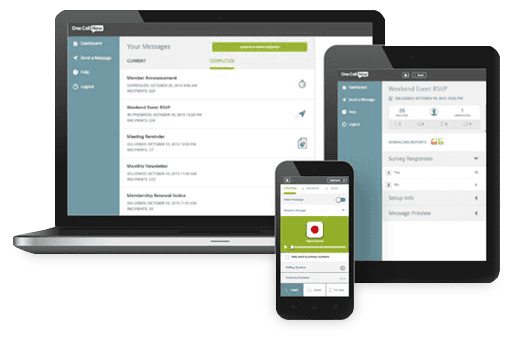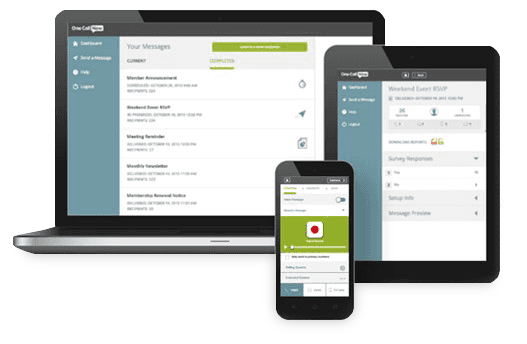 Get Your Message Out with Fast, Flexible Alerts
Whether it's a routine message or an urgent alert, delivery must be quick, reliable and secure. That's why over 35,000 clients nationwide rely on OnSolve One Call Now, one of the company's market-leading critical communications products. Access the web-based service from any phone or internet-connected device to create and send messages in multiple formats, at any time. Real-time reporting provides continuous status updates as soon as your message is sent.
It's never been easier for any size or type of organization to distribute critical information to large numbers of people on virtually any device and network.
Any Device, Any Time, Anywhere
Eliminate the stress of manual outreach. One Call Now is as intuitive as pushing a button.
Easy to Use, Fast Delivery
Create alerts using an intuitive interface that allows you to send without fuss.
Launch notifications from anywhere, at any time, from any device.
Get the word out quickly when facing emergencies, outages or other critical events.
Highly Targeted, Immediate Updates
Deliver the right information to the right people through targeted groups.
Send routine notifications including meeting announcements, promotions, etc.
Get continuous status updates immediately upon sending.
Trusted Technology, Continuous Support
Deliver alerts quickly and reliability using the mass market industry's top-ranked MNS.
Learn how to create and deliver alerts more effectively with web-based and group training.
Get assistance any time you need it with our live, in-person customer support.


Interested in learning more? Simply complete the form.
Everything You Need to Communicate Effectively
Easy
Just record or type your message, select recipients and push a button. Intuitive design ensures there's little room for error. Create custom or pre-recorded messages to be sent immediately or later.
Flexible
Deliver messages from cell phone or landline, any internet-connected device or mobile app. With this level of flexibility, you can send an alert from almost anywhere, anytime.
Relevant
Create an unlimited number of contact subgroups – from one contact to thousands – for targeting your audience with relevant communications. Additional filter fields allow users to dynamically create groups.
Multilingual
Send alerts in multiple formats according to the urgency of the situation. Multilingual capabilities enable alerts to reach people in their native language to enhance understanding.
Create
---
Add and Manage Contacts
Add or edit them manually
Import them from a spreadsheet
Synchronize information with an existing database
Send
---
Choose Who, How, and When
Choose who you want to receive the message
Pick the channel: voice message, text message or email (or all 3)
Hit "send" for immediate delivery, or schedule to deliver later
Report
---
Get Useful Feedback Reports
Who received your message and when
Answers to any questions you asked in your message
Any numbers or addresses that were undeliverable
We Have Your Back with Personalized Customer Support
The dedicated One Call Now support team is available to help customers send alerts, modify contact lists and utilize features, ensuring that important alerts are delivered when it matters most. Let us know how we can help.