Why Use Mass Notification from OnSolve?
In a crisis, your people need to know what's happening, what actions to take and how a situation is evolving in real time. One Call Now by OnSolve helps organizations send time-sensitive mass alerts across multiple channels to inform, engage and protect people.
Effective Messaging. Targeted System.
Use automation to proactively define crisis scenarios that will trigger mass notification without human intervention.
Save time and money by reaching the right groups, every time.
Detect events early with risk intelligence and trigger a pre-defined workflow, alerting necessary staff and groups.
Fully-Integrated. Mobile-Centric.
Expand functionality with pre-built API integrations to add notification and alerting features to any business system.
Initiate multimodal notifications through any device, including phone, email, SMS, desktop alerts, IPAWS, voice and more.
Reach residents, employees and all stakeholders quickly, no matter where they are located.
Industry Leading. First-rate Support.
Rely on a company with the longest history of successful implementations.
Achieve successful outcomes during a crisis with the largest and most-reliable mass notification providers in the world.
Gain time-sensitive help from a support team that's available 24/7/365 to assist in any situation.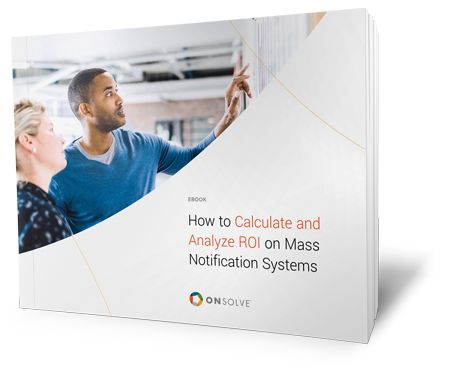 How to Calculate and Analyze ROI on Mass Notification Systems
Learn how your organization will benefit from a mass notification system and get the most out of your investment.
What Is Mass Notification?

What is a Mass Notification?
A mass notification is a message or alert that is sent to a group of people. Mass notifications allow your organization to communicate across multiple channels to inform, engage and protect people. Mass notifications can be used in emergency situations or to relay less time-sensitive announcements to those involved.
What is a Mass Notification System?
A mass notification system (MNS) is a SaaS-based system that reaches a large number of people quickly, wherever they are located. It allows organizations and government agencies to communicate important information with employees, customers, vendors, travelers, etc., in real-time to help them make informed decisions.
Mass notification systems have the ability to target multiple channels to make sure you reach people on their preferred device, whether that is via email, SMS, voice or desktop alerts.
What is the difference between Mass Notification Systems and Emergency Notification Systems?
Emergency notifications typically refer to a critical event and an organization's response to it. The use cases for mass notification systems extend past emergency notifications. Mass notification systems encompass emergency alerts, but also embody day-to-day communications. For example, MNS includes corporate communications, IT alerts and responses, operational notices and more.
How does a Mass Notification System work?
Record or type your message, select recipients and push a button – it's that easy to send mass notifications. Your message will be delivered to everyone on your chosen contact list. Send your alert as a phone call, SMS text, email or push notification – all through one user-friendly interface. You can also create a custom or pre-recorded message to be sent immediately or at a later time.
How much does a Mass Notification System cost?
When evaluating mass notification providers, flexibility is key. No two organizations will have the same requirements. Mass alerting needs will vary from industry to industry and by size and type of organization. Even among government entities, the requirements of federal agencies will be very different from that of state and local government.
When paying for a mass notification system, you shouldn't have to fit into a one-size-fits-all type of plan. For instance, some businesses or government agencies will only need to reach personnel in an emergency, while others will require more complex workflows and integrations with business systems.
Organizations can also reduce the Total Cost of Ownership (TCO) with a SaaS-based mass notification system. There's no need for expensive hardware, or the staff to maintain it. Since maintenance and upgrades are handled by your vendor, you'll also save time and resources.
Working with a vendor that offers customizable to your precise needs and can flex to fit a variety of levels will offer greater value. When you pay for only the features you will actually use, you'll keep costs low.
What Sets the OnSolve Mass Notification System Apart?
Send Messages to the Right People
Create an unlimited number of contact groups— from one recipient to thousands—for targeting your audience with relevant communications. Additional filter fields allow users to dynamically create groups.
Enhance Duty of Care
With an effective mass notification system, organizations can not only protect their employees, but also boost morale and engagement. Open and transparent communication helps keep employees informed.
Maintain Business Operations
With a mass alerting system, organizations can communicate quickly and effectively during an emergency to ensure operations continue uninterrupted. Targeting the right people at the right time is key to business continuity.
Reliably Send Messages Anywhere
OnSolve is a SaaS system with an intuitive, easy-to-use and deploy interface. Our geographically dispersed data centers ensure our system is working when a customer needs it.
Manage Contact Data Seamlessly
Manage contact data easily with self-registration portals and integrations with popular HR systems to ensure you reach the right people with their current contact information.
Get Critical Feedback Immediately
Two-way communication allows for collaboration during critical events. It helps to gather immediate feedback, monitor results in real-time and assess situations by understanding who is affected. OnSolve gives recipients the ability to respond in a variety of ways, providing critical feedback.