Save Time With Automated Robo Calling
Automated calling, sometimes referred to as a "robocall" isn't used soley for political campaigns and tanning salon promotions. Every day thousands of businesses and other organizations use automated "robocalls" to reach contacts for a variety of reasons:
Emergency alerts
Customer reminders
Employee Announcements
Shift recruiting
Interested in knowing more?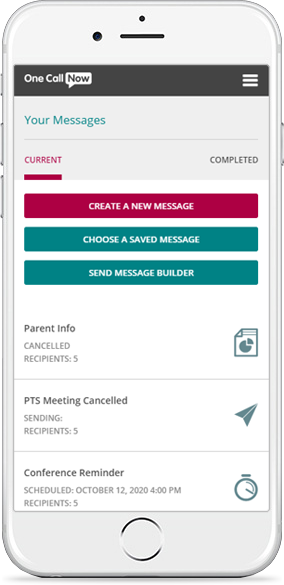 One Call Now messaging system by OnSolve
How One Call Now works for Robo Calling
Just record or type your message, select recipients, and push a button. We'll take care of the rest.
One Call Now delivers your message to everybody on your designated contact list. Send it as your choice of a phone call, SMS text message, email, or push notification — all through one handy platform and simple user interface.
Complete the form for more information on features, FAQs, and account setup.
Download The How It Works Brochure
Create
---
Add and Manage Contacts
Add or edit them manually
Import them from a spreadsheet
Synchronize information with an existing database
Send
---
Choose Who, How, and When
Choose who you want to receive the message
Pick the channel: voice message, text message or email (or all 3)
Hit "send" for immediate delivery, or schedule to deliver later
Report
---
Get Useful Feedback Reports
Who received your message and when
Answers to any questions you asked in your message
Any numbers or addresses that were undeliverable
Robocalls Vs. Automated Voice Messages: What Gives?
Answering the phone and hearing the familiar voice of a far-off friend is one of life's great small pleasures. Conversely, a ring that turns out to be a prerecorded, unsolicited "robocall," can be one of life's greatest frustrations. Have you ever stopped to wonder what differentiates these calls from other types of automated notification systems? Let's take a closer look at the difference between the two, as well as whether a future free of robocalls is within the realm of possibility.
The 411 on Robocalls
Consumer Reports defines robocalls as "auto­dialed or prerecorded telemarketing calls to landline home telephones or cell phones, or unsolicited text messages to wireless numbers." Just how rampant is the problem? One industry source claims that as many as four of all calls received by the average household are robocalls.
You're hardly alone if a ringing phone has turned into a harbinger of dread: according to Consumer Reports, more than 150,000 consumers lodge official complaints every month about these intrusive and unwanted robocalls. In fact, more people now complain about robocalls than they do about their pesky predecessors, live telemarketers.
Even more troubling is the fact that robocalls can also be a gateway to telemarketing fraud which Consumer Reports estimates costs consumers approximately $350 million every year. Voice over Internet Protocol (VoIP) has exacerbated the problem by allowing robocallers to "spoof" different numbers to appear legitimate. Additionally, while the problem was largely limited to traditional land lines in the past, mobile phones are now also targets. What does this all mean for you? The problem is going to get worse before it gets better.
The Anti-Robocalls: Automated Message Systems
While robocalls are, by nature, unwanted and unsolicited, automated message systems are their converse. Delivered to a targeted group of recipients in need of specific information, automated voice broadcasting saves organizations time and money by automating the messaging process.
While robocalls qualify as spam, automated voice messaging services offer a communication service. From sending appointment confirmations and reminders to informing individuals of service changes to collecting customer feedback to school closings and traffic announcements, automated message services represent an efficient, effective way to relay information between organizations and their constituents. Automated message services can also play a very important role during times of emergency when information needs to be conveyed quickly and with certainty. Because of their inherent value, it makes sense that automated message system calls are immune from the National Do Not Call Registry. This is terrific news for consumers attempting to stop robocalls who still wish to receive automated messages. It's also great news for organizations looking for a time-saving messaging solution.
Ultimately, while robocalls are nothing more than a headache, automated message systems offer a solution to today's ongoing messaging challenges. And while robocalls will hopefully some day go the way of email spam, automated message systems are uniquely positioned to bridge the gap between people and the information they need to live safer and more productive lives.
Is there anything you can do to stop these calls from coming in?
Both the Federal Trade Commission and the Federal Communications Commission are on the case. The National Do Not Call Registry represents the first line of defense in limiting telemarketing nuisances. However, it's only as effective as robocallers willingness to abide by it. And the truth is that the majority don't bother due to a simple lack of incentivization. In the meantime, efforts to advance call-blocking technologies are underway, but until widespread acceptance by telephone carriers, consumers must make due with plug-in call-blocking devices and apps.
One Call Now By OnSolve Has Everything You need To Effectively Message
Unlimited Messaging
Plans include unlimited calls, texts, push notifications, and emails for one annual price with no per-call or long-distance charges.
Flexibility
Send messages in multiple formats according to the urgency of the situation and contact preference of text message, email, phone call, or mobile app. Senders can also select multiple formats for urgent messages.
Targeting Messages To The Right Contacts
Create an unlimited number of contact subgroups— from one contact to thousands—for targeting your audience with relevant communications. Additional filter fields allow users to dynamically create groups.
Text-To-Speech
Don't like the sound of your own voice? Our text-to-speech feature converts typed text to an audio file and delivers your message in your choice of natural sounding voices.
Smartphone App
Download our free smartphone app for message sending ease.
Real-Time Reporting
See continuous status updates as soon as your message is sent. Know who was successfully reached, gain access to polling responses, and manage erroneous phone numbers with immediacy.
Import Contacts
Upload contacts from CSV or spreadsheet files, or by exporting or integrating with an existing database program such as Salesforce or Outlook.
Audio Library
Pre-record messages and save them for use any time. This feature is ideal for both standard and recurring events.