Mobile Apps for All – Call, Text, and More
Perhaps more than anything else, people are looking for things to be quick and simple. They want convenience.
Our mobile texting and calling apps make it easy for message senders to communicate information. Just as important, they help the receivers organize it. With just a few key strokes, senders can communicate with everybody who needs to receive a notification, alert, or announcement. Recipients can manage the information they've received so that they won't feel overwhelmed.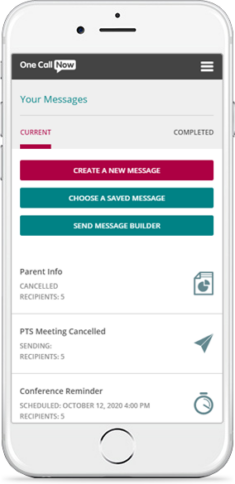 One Call Now App For Message Senders
You will never need to call multiple people to deliver the same information again. With the One Call Now texting and calling app, you can launch emergency notifications, text reminders, routine alerts, and more. In just a few seconds, you can launch any message, anytime, from anywhere with the One Call Now App.
My Call Now – The App For Receiving Messages
The My Call Now app stores all voice, text, and email messages sent via One Call Now in one place for quick, easy reference. This reduces confusion, follow-up calls, no-shows, missed appointments, and non-compliance. Messages can be passed along to other people, improving the flow of information and increasing attendance at events.
Mobile Notification with One Call Now
Our text message feature provides plenty of character space – 160 to 300 characters depending on the sending method – allowing for somewhat detailed messages that also stay on point. With a 300-space limit, recipients receive only the most pertinent information. When you're direct and brief, your contacts are less likely to miss or ignore an important reminder text. That's not always true with voicemail, especially for younger smartphone users. Studies show users under 30 tend to ignore voicemail messages but check their text messages over 150 times a day.
A Calling App You Can Rely On
To ensure that recipients of your messages won't get overwhelmed, we created My Call Now, the ultimate mobile recipient app. It gathers and stores messages sent via One Call Now in one place for quick, easy reference and allows your contacts to forward them to their calendar, reducing the likelihood they'll forget an important event.
The One Call Now Messenger App makes calling and texting from your mobile a snap. Do you need to send specialized text message alerts? One Call Now is used by thousands of customers to send SMS text message reminders, general text notifications, mass calling to mobile devices, text message alert systems for emergencies, employee and staff notifications, as well as other custom applications. You won't find a better mass and group text messaging service with mobile apps, SMS alert systems, and text reminder services.
How Text Alerts Work
Short Message Service (SMS) is an available feature on the One Call Now service plans. SMS is a text messaging component of web or mobile communication systems, which allows the exchange of short text messages between mobile phone devices.
Because of the potentially high cost of receiving text messages, mobile phone service providers require that phone owners manually opt in and have a means to opt out of receiving these messages. That is, they must take a deliberate action that confirms they will accept text messages from a third party service such as One Call Now. While text messages can typically be up to 160 characters in length, One Call Now reserves 30 characters to provide this required opt-out clause allowing recipients to stop receiving messages at any time.
Text Opt-In
Secure Opt-Ins Managed by One Call Now
When One Call Now receives this Alert text message, we will "Opt-in" your cell phone to receive text alerts and send a confirmation to your cell phone by text. If you are a member of more than one organization using the One Call Now service, you will be "opted-in" for all groups that have your cell number in their calling list. If your preference is to receive text messages for only some, but not all, of these organizations, contact the organization's group leader or One Call Now's support team. You will receive this "opt-in" phone call only if your phone number is in a calling list for an organization using the One Call Now service. If you do not respond by sending the word Alert to One Call Now, you will not receive any group text messages from your organization via the One Call Now service.
How To Opt-Out
If you would like to stop receiving text messages, you can opt-out by texting the word Stop to 22300 from your cell phone. Text messages will be disabled to your number. (You can opt-in again at any time by texting Alert to 22300.) If you choose to Opt-out of text messaging, you will continue to receive voice phone calls to your cell phone.
Support
For further information on our Text Message Notification program or our other messaging services, please call 877-698-3262.