Glossary Term:
Group Calling & Text Messaging
See why we're different
Award-Winning Critical Communications
Find out why over 30,000 organizations across the globe rely on OnSolve to deliver fast, effective alerts when they matter most.
Fast, Relevant Risk Intelligence
Discover how AI-powered and analyst-vetted risk intelligence allows you to respond faster and improve outcomes when a critical event occurs.
Unmatched Expertise & Ease of Use
Learn how our power is in our people with decades of experience. We understand the challenges you face every day, and our platform was designed with you in mind.
Have communication challenges?
Our experts are here to help.
What is group text and phone messaging?
A group notification system allows text and recorded messages to be broadcast to countless phone lines quickly and efficiently. It is used daily by all types of businesses and organizations for nearly any type of communication need. Group messaging is a fast, convenient way to reach thousands of potential respondents in a matter of seconds.
See Below For More FAQs
Why Use Group Messaging from OnSolve®?
When time is money and bottlenecks cause delays, you need a shortcut to effective communications. Let technology get you there faster with a group messaging system from OnSolve®. OnSolve's group messaging is fast, effective and reliable, ensuring you have a direct route to reaching everyone, no matter the conditions.
Add and Manage Contacts
Add or edit them manually
Import them from a spreadsheet
Synchronize information with an existing database
Choose Who, How, and When
Choose who you want to receive the message
Pick the channel: Voice message, text message or email (or all 3)
Hit "send" for immediate delivery, or schedule to deliver later
Get Useful Feedback Reports
Know who received your message and when
Get answers to any questions you asked in your message
Easily identify any numbers or addresses that were undeliverable
How to choose the best Group Notification System
Sending great group communications requires a reliable messaging service. In order to find the right vendor, it's important to identify your big picture communications goals and the fine details that stem from them. Here are some important questions to ask when comparing vendors:
What are the most frequent subjects of your messages?
Who composes your most common audience groups? Are they in different geographic locations and/or time zones?
When you notify various groups about a situation, how is each affected and what actions do you want them to take?
Are you legally required to document your communications?
Will you be reporting your metrics to justify the purchase of an automated calling system?
What's your budget?
These answers will help define what you need in a group notification system.
Is Group Messaging easy?
Keeping everyone in the loop can be a chore without the proper tool and keeping track of it all can get unmanageable quickly. Fortunately broadcasting your message has never been easier, and you can deliver it exactly how your recipients want it.
There are two main components in an auto calling system: the message and the recipients. The right auto calling service gives you options for how to handle both:
Messages: Create your own for each situation, choose from a bank of options included with the service or merge the two by creating your own library of messages that can be tweaked as needed. Messages can be recorded in your own voice or automatically translated from a typed message to an audio recording in a natural sounding voice.
Recipients: Set up as many contact groups and subgroups as you need. Common groups include employees, customers and vendors. Those can be broken down further based on a range of criteria, such as shift, location and product.
Three Simple Steps:
Prepare your message.
Select your recipient group.
Click "Send."
The Process: Once you've done those three steps, the system delivers your message to everyone instantly. When recipients accept the call and the system detects a human on the line, the pre-recorded message is played. Voice-over-internet-protocol (VOIP) technology enables the system to detect if it's reached a machine or voicemail, in which case it can deliver either the same pre-recorded message or an alternate version.
Why use a Text, Voice, Email Notification system?
Today your recipients have more options to communicate than ever, and that's why it's critical to send your messages exactly how they want to receive them. Whether you want to send your messages via text, voice, email, or push notification with OnSolve you'll have it all at your fingertips.
Which is Better: Text Messages or Phone Calls?
Nearly two-thirds of Americans own a smartphone so mobile notification is critical, but with a OnSolve you don't have to choose between calls or texts. Deliver your messages instantly the way your contacts prefer to receive them: phone calls, text messages, email messages or all three. You can even simultaneously send the message to your social media accounts, saving even more time and further extending your reach.
Did You Know?
80% of smartphone users use their phone to coordinate meeting locations. $528,443 is the average annual cost a business with 100 employees spends on communications.55% of smartphone users use their phone to learn about news and developments.
What are Text Alert Services?
Text Alert Services are simply services that deliver alerts and messages via SMS text message only. These services allow you to quickly send texts to a list of contacts via cell phone, mobile app, or email. Yes, text messaging is on the rise, but it is only one of several channels available to effectively communicate with a group. Contacting your recipients using the channel they prefer is a critical aspect of effective notification. Accommodating a variety messaging preferences and quickly sending tens, hundreds, or thousands of text alerts can be a challenge.
What is Broadcast Text Messaging?
Broadcast Text Messaging describes the process of sending multiple text messages simultaneously to a variety of recipients. This differs from group text messaging in that it generally means the message is being sent to hundreds or thousands of recipients at once, thus the term "broadcast".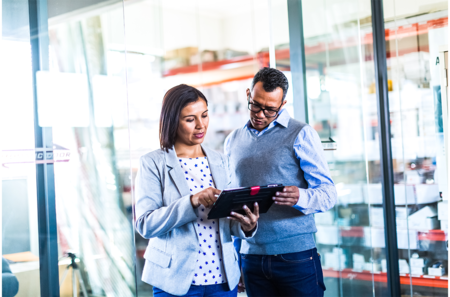 Mass Notification 101 for Business Owners
Learn how to improve the relationships with key stakeholders with mass notifications from OnSolve.