Glossary Term:
Voice Messaging
See why we're different
Award-Winning Critical Communications
Find out why over 30,000 organizations across the globe rely on OnSolve to deliver fast, effective alerts when they matter most.
Fast, Relevant Risk Intelligence
Discover how AI-powered and analyst-vetted risk intelligence allows you to respond faster and improve outcomes when a critical event occurs.
Unmatched Expertise & Ease of Use
Learn how our power is in our people with decades of experience. We understand the challenges you face every day, and our platform was designed with you in mind.
Have communication challenges?
Our experts are here to help.
What is Voice Messaging?
A Voice Messaging System or Service, also known as Voice Broadcasting, is the process by which an individual or organization sends a pre-recorded message to a list of contacts without the need to manually dial each number. An automated voice messaging service delivers these messages within minutes, and also provides the ability to deliver a customized message if the call reaches voicemail, and to request touch-tone responses from recipients.
See Below For More FAQs
Why Use Voice Messaging from OnSolve®?
Sending voice messages via the phone is a simple but effective way to reach tens, hundreds, even thousands of contacts with the same message. Let technology be a shortcut to effective communications. Voice messaging system from OnSolve® is fast, effective and reliable, ensuring you have a direct route to reaching everyone, no matter the conditions.
Add and Manage Contacts
Add or edit them manually
Import them from a spreadsheet
Synchronize information with an existing database
Choose Who, How, and When
Choose who you want to receive the message
Pick the channel: Voice message, text message or email (or all 3)
Hit "send" for immediate delivery, or schedule to deliver later
Get Useful Feedback Reports
Know who received your message and when
Get answers to any questions you asked in your message
Easily identify any numbers or addresses that were undeliverable
How do you send a message with voice?
There are two main components in a voice messaging system: the message and the recipients. The right voice messaging service gives you options for how to handle both:
Messages: Create your own for each situation, choose from a bank of options included with the service or merge the two by creating your own library of messages that can be tweaked as needed. Messages can be recorded in your own voice or automatically translated from a typed message to an audio recording in a natural sounding voice.
Recipients: Set up as many contact groups and subgroups as you need. Common groups include employees, customers and vendors. Those can be broken down further based on a range of criteria, such as shift, location and product.
Three Simple Steps:
Prepare your message.
Select your recipient group.
Click "Send."
The Process: Once you've done those three steps, the system delivers your message to everyone instantly. When recipients accept the call and the system detects a human on the line, the pre-recorded message is played. Voice-over-internet-protocol (VOIP) technology enables the system to detect if it's reached a machine or voicemail, in which case it can deliver either the same pre-recorded message or an alternate version.
When should you use a voice message?
When you need to get the word out fast, the right automated voice message system will give you the speed and efficiency that makes a measurable difference. Instead of tying up staff time with hours on the phone, you can let automation take the wheel. And because automated voice messages are process driven, they're triggered by preset parameters within your systems. This means when it comes to regular reminders, you can set it and forget it – the system takes care of follow-up and gives you comprehensive status reports whenever you need them. Here are just a few examples:
Routine Messaging: Reduce the burden of administrative duties on your team by automating all regular reminders.
Staffing: Call a list of employees and stop automatically when the shift is fully staffed.
Scheduling and Feedback: Keep customers in the loop with appointments, service calls, renewal agreements and surveys.
Scenario Calls: Send personalized messages for specific situations, such as:

School Administration: Send absentee notifications and low lunch balance alerts.
Property Management: Automate maintenance, rent reminders and past/late bills.
Automated voice messaging services are an effective way to relay information between organizations and their stakeholders. This is especially important during times of emergency when information needs to be conveyed quickly and with certainty.
Benefits of Voice Messaging
Businesses and organizations everywhere have issues sending updates to their contacts. Email can be unreliable, text messages too short, and dialing phones too time consuming. If you're facing this challenge, it's time to think about an automated messaging service. Automated messaging services like allow you to send email, text, and phone messages to all or select groups of your contacts with a click of a button or one phone call.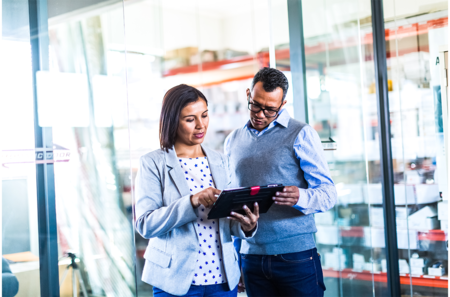 Mass Notification 101 for Business Owners
The quality of your communications can make or break relationships with all your stakeholders — from customers and employees to suppliers and vendors. Learn how mass text messaging can be a game-changer for your business.