Did you know 89 percent of all wildfires are caused by humans? This fact, combined with increasingly unpredictable extreme weather year-round, means that wildfires are occurring more frequently and more intensely, ushering in the "end of seasonality."
In 2022, 68,988 reported wildfires consumed 7,577,183 acres nationally, noticeably higher than the 10-year average, according to the National Interagency Fire Center (NIFC). The impacts varied regionally, with Alaska, the South, Southern California and the Northwest most affected. More than three million acres were burned in Alaska, 170 percent more than average. The NIFC reported that exceptionally dry conditions combined with historically high temperatures made for destructive fires that extended past the traditional wildfire season.
Despite the escalating danger posed by wildfires – both natural and man-made – many organizations and agencies remain unprepared to handle the risk. Extreme weather events in the United States increased by 42 percent from 2021 to 2022, yet only 37 percent of CEOs have a response plan for extreme weather, according to the 2023 OnSolve Global Risk Impact Report. When wildfires threaten operations, disrupt supply chains and destroy property, failing to prepare can have catastrophic consequences.
Wildfires are a significant and ongoing threat – not only to your people, places and property, but also to your fundamental ability to continue operations. To improve your critical event management (CEM) plan and better manage this risk, follow this 5-step wildfire readiness checklist.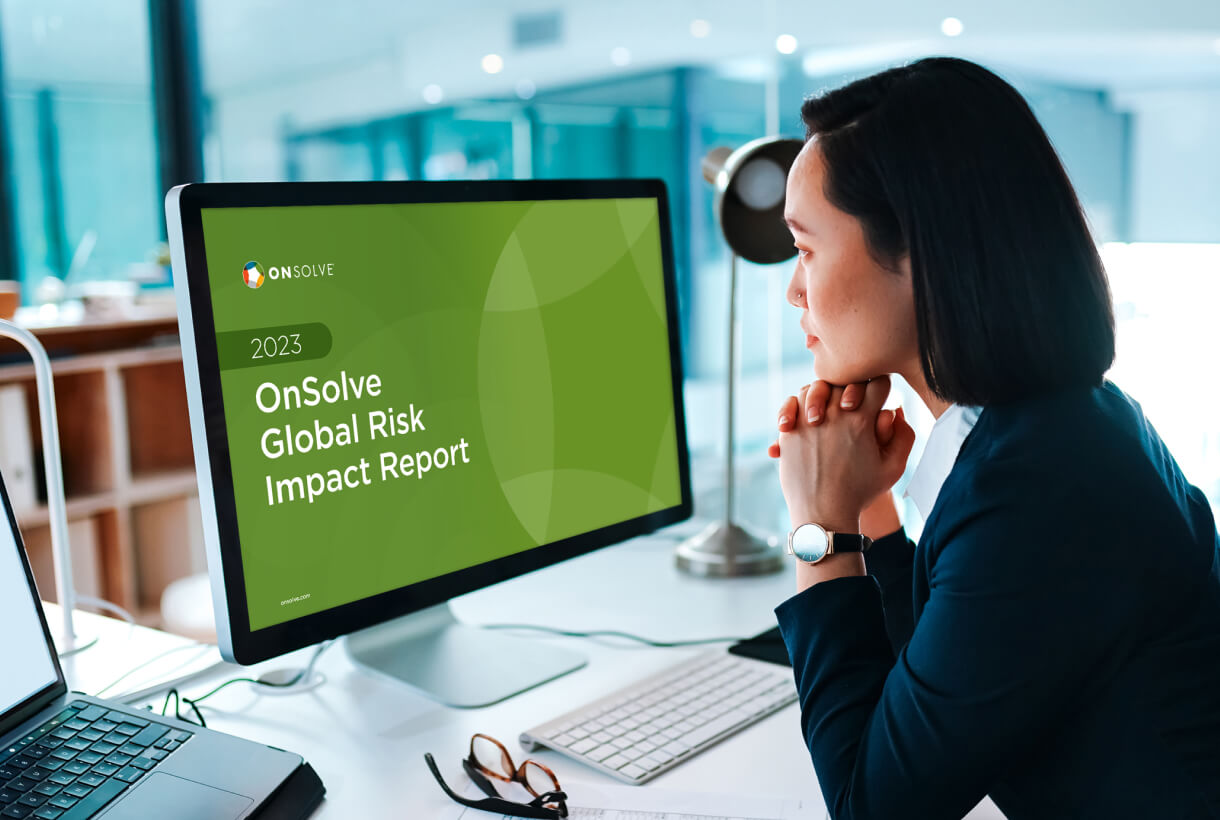 Discover the top rising global risks threatening businesses, according to OnSolve Risk Intelligence.
1. Examine last year's results.
Now's the perfect time to take stock of how your plan played out last year. If you can honestly and accurately discuss what worked and what didn't with your residents, staff and all stakeholders, you have a better chance of improving your results this time around. If your mass notification system has an audit trail feature, put it to good use. If it doesn't, consider switching to a solution that offers one.
2. Prepare your community for this year's forecast.
Make sure to take advantage of the resources available to help everyone get ready. For government agencies, it's essential to educate your community on proper fire safety and how to create a plan. At the organization level, share key information with your employees, including how they should expect to hear from you. Deliver preparedness information early via as many channels as possible to ensure it's read, understood and put into practice. From evacuation routes to pre-packing and planning for vulnerable household members and pets, the more everyone organizes in advance, the more effective they'll be in the moment.
3. Outline your communications strategy.
It's vital to know how you'll maintain contact and accountability before, during and after a wildfire. Ensure your alerting system offers a fast and easy means to pre-create messages and contact lists, so they're ready to send at a moment's notice. Two-way messaging capability will enable people to mark themselves safe or request help. First responders can confirm they're able to report to the incident they're being called in for. Take your strategy one step further with automated language translation to ensure your messages are understood and, therefore, more effective.
4. Identify your means of tracking and assessing risk.
Strengthen your communications and overall awareness with a system that has AI-powered risk intelligence to show you the location and status of fires in real time. Government agencies can monitor wildfires across their state closely and be alerted when the potential impact to their people, places and property comes into play. Organizations can also get context and analysis of the potential effects on people, operations and the supply chain, enabling more informed decision-making.
5. Plan for post-event recovery.
Anticipate a long-lasting aftermath that includes secondary and tertiary fallout. This includes factors such as road closures, utilities outages, displaced staff and a higher burden on medical facilities. For organizations, it's important to verify contracts with your various providers in advance so you can budget, proactively shift operations where possible and endeavor to maintain business continuity.
For government agencies, it's important to continue to communicate with your residents even after the fire ends, providing support and additional resource information. Reputational risk is also a factor in long-tailed events, so be sure to have a plan in place to address media relations. Above all, prepare for ongoing communications with residents and all stakeholders to keep them informed and empowered to persevere.
Proactive preparation will help your community or organization stay cool, calm and collected when wildfires burn. For additional insights and recommendations, watch the on-demand webinar.