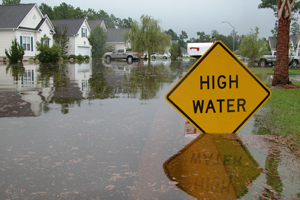 37.3 trillion. That's how many gallons of water have fallen over the state of Texas in the month of May, according to the National Weather Service. Over the past few weeks, there has been an overflow of water all over the country, reaching dangerous levels in some areas.
When there is too much rain, you can expect the flooding of roads. In Texas, however, houses are being inundated with piling water, and residents are using canoes to cross streets. Due to the overflow of rivers and excessive rain, 22 people have died in Texas, and some people are still missing. But this tragedy is far from over, for Houston is forecasted to see more storms within the week, and the Midwest is expected to see flash flood warnings.
Not counting heat related deaths, flash floods are the #1 weather-related incident with the largest death toll, according to the National Weather Service. Over 100 people die from flash floods every years, so to avoid any losses during a heavy rain and flood season, Emergency Communications Network encourages our clients to use CodeRED to send out messages to residents informing them of dangerous weather in their area. Other important information to include would be a precautionary evacuation notice for residents near rivers that could potentially overflow, or a message providing shelter locations if homes have encountered too much rain damage.
CodeRED Weather Warning can also automatically notify subscribed residents of flash floods, with a feed direct from the National Weather Service. Without any human intervention required, residents in specific geographic areas may receive critical early warning. During this season, residents are counting on local officials to use their emergency notification system to communicate how to come to safety. Before a big storm, make sure your residents signed up for your alerts in order to stay informed and safe from harm.