The retail industry faces numerous challenges and uncertainties that can significantly impact its people, operations, financial stability and reputation. While the specific risks can vary depending on factors such as the type of retail establishment (grocery, department, big box, etc.) and geographical location, understanding the historical patterns provides invaluable insights.
OnSolve is revolutionizing the way retail professionals assess risk exposure with AI-powered software that pulls historical data around a defined location and timeframe. OnSolve Risk Insights generates reports instantly into easy-to-digest visuals to provide actionable intelligence and better data-driven decisions. These insights can make the difference between profitability and failure.
Make Better Decisions Using Historical Physical Threat Data
Top 6 Use Cases for Retailers
The retail industry faces a multitude of risks that can significantly impact operations, profitability and customer trust. To effectively mitigate these risks, retailers require comprehensive and actionable insights. This is where Risk Insights comes into play. By leveraging advanced data analytics and an intuitive dashboard of reports, retailers can proactively evaluate their risks and plan accordingly.
Data about crime rates, traffic accidents, severe weather, flooding, environmental factors and more are used to create risk profiles for each defined location. By comparing these factors across sites, retailers can make smart choices about site viability or asset allocation. For instance, they can select an area based on its low crime rate and avoid locations where crime is elevated, thus saving potentially hundreds of millions in theft.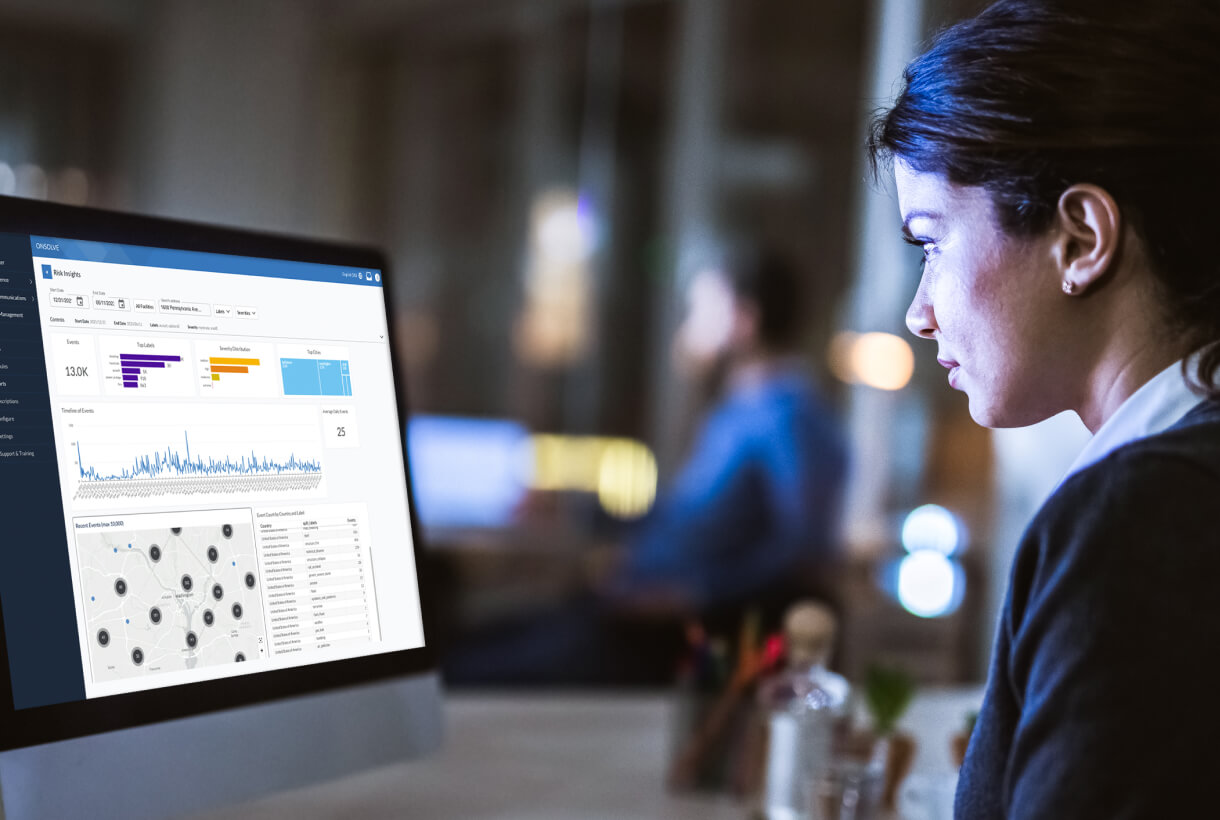 Risk Insights can equip your team with the physical threat data to expose trends and risks that lead to better preparation and risk mitigation. Learn more ways Risk Insights can help your security and business continuity teams today.
As a leader in AI-powered risk solutions, OnSolve has a proven track record of empowering retailers across the world. Use cases include:
Risk assessment: Identify patterns and trends related to security incidents to determine the level of risk associated with different locations and prioritize security measures.
Security planning: Develop security plans based off the type of incidents that have occurred in the past, such as burglaries or robberies, to implement appropriate countermeasures.
Incident response: Better prepare for and respond to security incidents by analyzing past incidents, and identifying vulnerabilities or weaknesses exploited.
Staff training: Inform the training programs for employees, ensuring they are equipped to handle potential security risks by identifying suspicious behaviors or red flags.
Location expansion: Analyze crime rates and security incidents in different areas to identify regions or neighborhoods with lower crime rates and a history of better security.
Insurance and risk management: Negotiate insurance policies by providing detailed information on past incidents to demonstrate commitment to security and potentially negotiate better insurance terms.
What Makes Risk Insights Unique?
OnSolve offers historical reporting from the largest physical risk dataset in the industry to help organizations better understand threat exposure. Risk Insights data is sourced from our AI-powered Risk Intelligence solution, featuring tens of thousands of verified sources globally and years of historical reports of risk events.
Other advantages are:
Innovative technology: Evaluate risk by navigating our interactive map. Zoom into specific neighborhoods to see which threats have been most prevalent.
Granularity: Look at data from a variety of angles, including by specific date range, event, severity or region.
Ease of use: Quickly generate customized reports on one or more locations. Graphs and charts help readers instantly grasp the impact of physical threats on expansion plans.
Speed: Conduct faster assessments on hundreds of sites without the time or expense of human investigators.
Make Better, More Informed Decisions
With Risk Insights, retailers can make more informed decisions. Uncover trends and project future risk performance for each site. Determine which is the better investment and identify physical security resources required to mitigate future risk.
Schedule a demonstration to see how Risk Insights can help your real estate, security and business continuity teams confidently deliver data-driven recommendations for business expansion.