Buzzword or not, "resiliency" was the focus of DRJ Fall 2023. And hundreds of professionals responsible for business continuity, disaster recovery, crisis management, security and more converged on Phoenix, AZ, to learn how to improve their resiliency programs. In fact, during the first general session, about one-third of the audience raised their hands when asked whether their titles or team names included the term "resilience."
Speakers and attendees had a lot to talk about, including the dynamic risk landscape, how organizations are becoming more interdependent, and new strategies and technology emerging to help plan for and mitigate the impact of critical events.
What Topics Stood Out Most at DRJ Fall 2023?
Dynamic Risk
Whether you're talking about the "crisis within a crisis" or a "polycrisis," as Regina Phelps discussed during her general session, operating in today's world means we're never hit with just a single critical event at a time. And we must factor in the cascading impacts of events happening farther away or that we may not have thought of before.
The week of DRJ Fall, we learned that the U.S. has endured 23 separate weather and climate disasters that have each led to at least $1billion in damages. But it's not just climate change on our radars. Geopolitical climate – for example, the war in Ukraine – is impacting many organizations' resources. Meanwhile, everyone is still acutely aware of public health threats like COVID-19. And don't forget shootings, crime, cyberattacks and much more. The point is, it's impossible to focus on just one crisis at a time. Yet artificial intelligence and technology to improve situational awareness have emerged to help organizations monitor what matters most.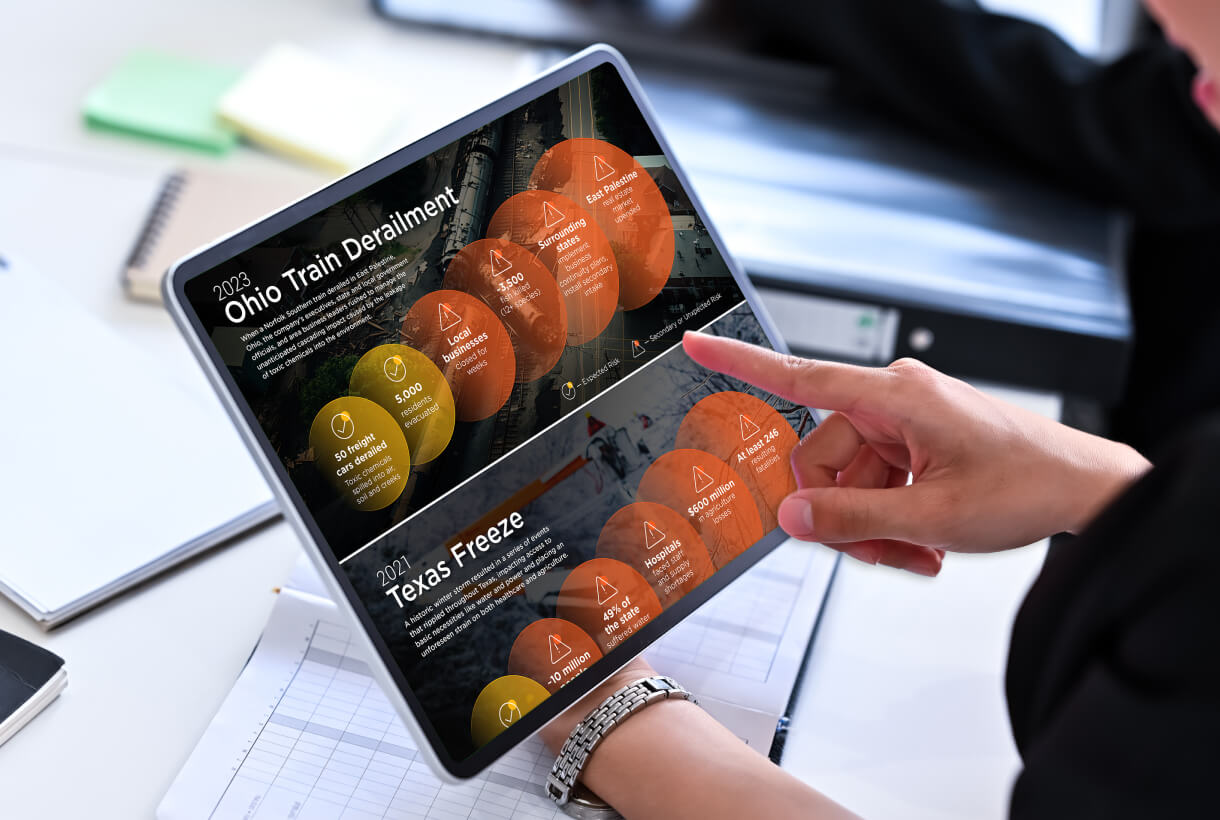 Learn more about the unexpected ripple effects of dynamic risk and how to mitigate the impact with a proactive approach.
Third-Party Risk Management
Very few organizations can operate in a silo. Most are dependent on suppliers or third parties to deliver goods and services and ultimately grow revenue. Leaders can no longer afford to worry about their organization's risks alone. After all, when a giant container ship blocks a major canal for six days, blocking roughly 12 percent of the world's trade, it's ultimately your organization that won't deliver to your customers. This is a drastic example. But when a trucking company filed for Chapter 11 bankruptcy this year, many companies were left scrambling. These things can happen any time, to anyone. A Gartner survey of 100 executive risk committee members in 2022 found that 84 percent of respondents had third-party "misses" resulting in operations disruptions. Third-party risk management is critically important and again starts with situational awareness. It's about understanding what your vendor/supplier risks are and creating a plan to adapt when necessary.
Artificial Intelligence
The growing complexity of risk and operating in today's world makes it impossible for humans to identify, rapidly adapt and respond to every threat alone. Cutting-edge technology, specifically artificial intelligence (AI) and machine learning (ML), are beginning to transform the way organizations approach their resilience programs. AI and ML automate tasks and offer greater speed and relevance so humans can focus on what matters most and make informed decisions when every minute counts. Where does AI fit in continuity and disaster recovery? Early warning system integration, predictive analytics, situational awareness, communications, planning, monitoring and so much more.
Let's Keep the Conversation Going
It was great to connect with so many familiar faces at DRJ Fall and spend the week sharing ideas and learning from so many experienced professionals. We can't forget that the framework for strengthening resilience includes processes, technology and people.
From the importance of communicating clearly and rapidly, to making sure everyone understands what to do in the event of a crisis through exercises and training – and even gaining executive buy-in for your organization's resiliency program – so many DRJ Fall discussions focused on people this year. And most important were the reminders to take care of ourselves and prevent burnout. Resilience professionals are under more pressure than ever before, and it's important to be mindful of the support and resources available. If you didn't make it to Phoenix, we hope to see you at DRJ Spring 2024!
Learn more about supporting your organization's resilience, how to talk about the technology and ways to build out your business case internally in our ebook.