What is Organizational Resilience?
In 2017, David Denyer, a professor at Cranfield University, defined organizational resilience as
the ability of an organization to anticipate, prepare for, respond and adapt to incremental change and sudden disruptions in order to survive and prosper.1
Five years later, this definition is more relevant than ever. But the key is to define what it means to you and your organization.
As the risk landscape becomes more dynamic, organizations are increasingly facing simultaneous or a succession of critical events. For example, a hurricane on the East Coast changes direction and causes unexpected flooding that impacts your branch offices in the Midwest. You prepared for the hurricane and had a plan in place; but were you able to pivot to address the unexpected impact to your business several states away?
How do You Measure Organizational Resilience?
Every organization wants to be agile enough to mitigate the risks to their people and property. But often, there's confusion about where to start and what the next step (or ten steps) should look like.
If we take a step back, understanding organizational resilience first requires understanding that it is also inherently dynamic; it can and will mean different things to different people within your organization. Every leader—whether focused on
business continuity
, communications, physical security, IT, etc.— will see organizational resilience through a unique lens that's formed by their role, priorities, and comprehension of the current and future risk landscape. So, it's essential that any organizational resilience conversation be a collaborative one. That's because it's a continuing journey and something an organization must commit to working at (and refining and improving) over the long term.
Why does Organizational Resilience matter?

Too often, the impulse is simply to add another piece of software. But that's short-sighted. What's really needed to strengthen organizational resilience is embracing a holistic approach that combines a modern, integrated technology platform with a shift in mindset organization-wide. Every department must have an understanding of how their people and their work support overall corporate objectives, and, just as important, be aligned with the top-level goals of agility, flexibility and ultimately, resilience.



How can You Improve Organizational Resilience?
An organization cannot over-prepare. You should be having a conversation about organizational resilience—a way to make better decisions that drive better outcomes. It starts with adopting an organization-wide mindset that emphasizes being agile, curious and adaptive in thinking about and approaching risk. Don't be afraid of asking questions and analyzing your organization's strengths and weaknesses. An organizations' people, processes and technology often mature at different rates, and it's important to understand where your organization's leaders believe themselves to be on the technology maturity scale. After all, to determine the best path to your desired destination, you must know your starting point.
How Does OnSolve® Strengthen Resilience?

OnSolve helps strengthen organizational resilience to reinforce enterprise, government and business-wide agility during daily operations and times of disruption through integrated technology and expertise.
Incidents can occur in the blink of an eye. Organizations need state-of-the-art technology and expertise on their side to effectively anticipate, prepare, respond and adapt. Survival isn't enough — today organizations must also thrive after a crisis.



1 Denyer, D. (2017). Organizational Resilience: A summary of academic evidence, business insights and new thinking. BSI and Cranfield School of Management.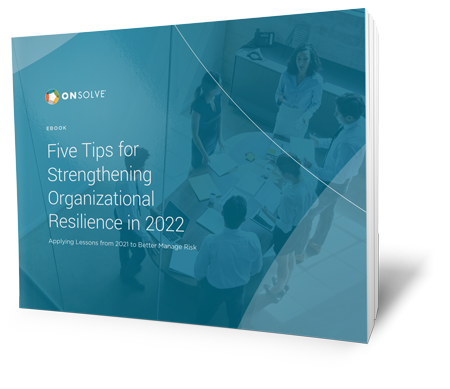 5 Tips for Strengthening Organizational Resilience in 2022
How can you take the challenges of 2021 and become stronger in 2022? Discover five tips to create resilience within your organization and confidently handle the year ahead.
What Sets the OnSolve Platform Apart for Effective Organizational Resilience?
Speed, Relevance and Usability
These key qualities enable faster response times, shorter recovery times and consistent actions that ultimately drive better outcomes and strengthen organizational resilience.
Risk Intelligence: Rapid. Relevant. Actionable.
The quality of information, and the speed you receive it, is key to your ability to take decisive action during a critical event. OnSolve Risk Intelligence leverages a team of data scientists and trusted, human-validated Artificial Intelligence (AI) to ensure you get the right information at the right time to protect your people and most valuable assets when a crisis strikes.
Critical Communications: Integrated. Informed. Robust.
During a crisis, getting the right information to the right people at the right time can mitigate operational disruption and save lives. An open cloud-based platform enables you to not only synchronize contact data, but to combine alerting functionality with other existing business systems. This means you can integrate with any solution on the market. It also removes manual burdens, improving efficiency and organizational resilience.
Incident Management: Customized. Collaborative. Effortless.
Intuitive emergency response plans and recovery procedures minimize downtime and mitigate disruptions. You can effectively activate response teams, no matter where or when an event occurs. Access business continuity plans from anywhere via the mobile app. You'll also improve future responses by reviewing the built-in audit trail.
Clear Risk Mitigation Planning
A solid plan with clearly delineated activation steps is the difference between reacting to disaster and accomplishing proactive critical event management. OnSolve delivers the technology, expertise and digital transformation that informs, assures and protects organizations against dynamic risk.
Best Intelligence and Critical Communications
This combination gives you the ability to mobilize, alert and track people, assets and the event itself as it unfolds, at home or abroad.
Functional Compatibility
Supports the development of a strong relationship between your business continuity management, physical security, and IT/CEM functions, relative to increasing physical and cyber security threats.
Digital Transformation
OnSolve helps you keep pace using sophisticated technology so you can scale your response during critical events as the threat landscape becomes more complex.
Human-validated, Global Data Coverage
The information you receive is context-driven, dynamic and prescriptive by virtue of an expertly built and constantly refined AI engine that's driven by a team of data scientists and trusted data sources.
Geo-targeted Precision Alerting
Location-based alerting means you can precisely target recipients through real-time GPS coordinates or by selecting specific pre-created contact groups.
Concurrent Coordination
The OnSolve Platform enables you to convene geographically disparate response teams, facilitate file-sharing and communications, and receive a chronological audit trail of all actions taken - without dependency on organizational infrastructure.