As everyone begins to reflect on the past year and prepare for 2022, we were wondering if risk is top of mind for most organizations. We think about risk a lot. After all, our mission at OnSolve is to help organizations mitigate risk and strengthen organizational resiliency. Today's risk landscape is complex and evolving — natural and manmade disasters are on the rise — and there is a growing need for organizations to take a more proactive approach to mitigating disruption and protecting their people, places and property.
Even at the Global Security Exchange (GSX) 2021 it was obvious more people were approaching security from a risk intelligence perspective. Most were discussing the dynamic nature of risk and the need for a risk culture that extends beyond the security team. There were also many discussions about the value of risk assessments and risk analysis.
This year, we asked Forrester Consulting to evaluate the state of risk management and critical event management (CEM) across major industries and multiple countries. Despite the shifting risk landscape and culture, they found that organizations struggle to proactively manage risks and are largely unprepared for critical events that are increasing in scope and intensity.
Here are three findings from the study that you should know as you plan for the coming year:
Fewer than 50% agree that risk management is likely to be more complex two years from now. Don't be caught underestimating the rising stakes of risk management. Natural disasters such as wildfires and hurricanes are more common and more devastating than ever before. Civil unrest and domestic terrorism have risen sharply over the past 5 years. And, as we've all learned too well over the past few years, organizations can face multiple critical events at the same time — a wildfire during a pandemic, for example. While 99% of survey respondents experienced at least one incident over the past 18 months, nearly three-quarters experienced at least two types of incidents. If you're not prepared for the first crisis, how will you manage the crisis within the crisis?
52% of respondents agree that proactive risk mitigation is as important as effective risk response. Nearly half of the survey respondents are discounting the value of proactive risk mitigation. The study also found that several factors make it harder to take a proactive approach: both organizational decisions about who manages CEM and incident response, as well as technology choices and access to integrated solutions that provide actionable intelligence make a big difference. Risk can come from anywhere at any time—can you quickly identify potential threats to your people and organization?
Organizations expect a 122% increase in optimized risk strategies in the next 18 months. After reading this far it might seem a bit optimistic to think there could be such a sharp increase in optimized strategies in such short a time. But there is a clear path to improving an organization's preparedness. According to the study, organizations that focus on mastering the core capabilities of CEM — control center, risk intelligence, critical communications and incident management — have better proactive awareness, response and outcomes when disaster strikes.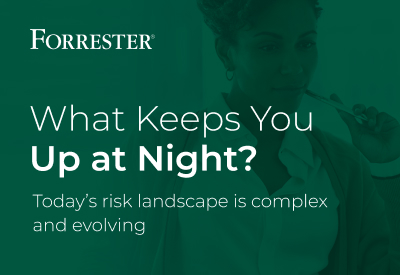 Failing To Plan Is Planning To Fail (October, 2021)
The full commissioned study conducted by Forrester Consulting on behalf of OnSolve, will be available at the end of October. Sign up today and be the first to receive the study before it's available to the public.