This May, it's time to turn up the heat on wildfire preparation. So far this year, 7,770 wildfires have burned 123,470 acres across the U.S. Without a fire response strategy in place and technology to support it, your people and operations are at risk.
As we head into National Wildfire Awareness Month, a thorough evaluation of preparedness must be a priority, including looking back on last year. A proactive approach to crisis management can prevent loss of human life and property damage from burns, scorched earth and smoke damage. You know what you're doing when it comes to protecting your people, and we've compiled a checklist as a refresher.
1. Know Which Way the Wind is Blowing
Overall, extreme weather poses a rising threat to communities around the country. From 2021 to 2022, extreme weather events rose by 42 percent in the U.S., according to the 2023 OnSolve Global Risk Impact Report*. Wildfires are included in that number, and their consequences can be severe for communities and businesses; in fact, 25 percent of businesses never recover after a major disaster, according to the U.S. Small Business Administration.
The first step to preventing those consequences is cultivating awareness. Businesses should read through community, county and state wildfire plans, public documents that are usually accessible online. Technology that can identify risks in advance to the area you're in and provide real-time updates when a wildfire starts helps send early warnings.
Once a fire has started, real-time visibility enables first responders and community leaders to assess the big picture and adjust tactics accordingly. The platform should provide a steady stream of actionable intelligence to enable better decisions as the situation unfolds.
2. Practice Sending Your "Smoke Signals"
Nearly every CEO surveyed as part of the 2023 OnSolve Global Risk Impact Report said their business has been affected by a physical threat in the last three years. Given this likelihood and the fact that wildfires spread so quickly, it's vital to have a tested system for sending alerts. When flames light, you need to reach everyone immediately.
Templates and contact groups should be prepared in advance, so messages are ready to go at a moment's notice. A critical communications system with these options, as well as geo-targeted alerting, will ensure you can reach everyone in the wildfire's path with just a few clicks. Businesses and agencies can provide employees with valuable information on closings, evacuations, road closures, detours and alternate travel routes, as well as conduct outreach to ensure they're safe and don't require assistance.
By familiarizing your staff and residents with the technology ahead of time, you can better prepare them to use it under stress. A system that keeps everyone connected and informed will also help them remain calm and take the appropriate steps to protect themselves.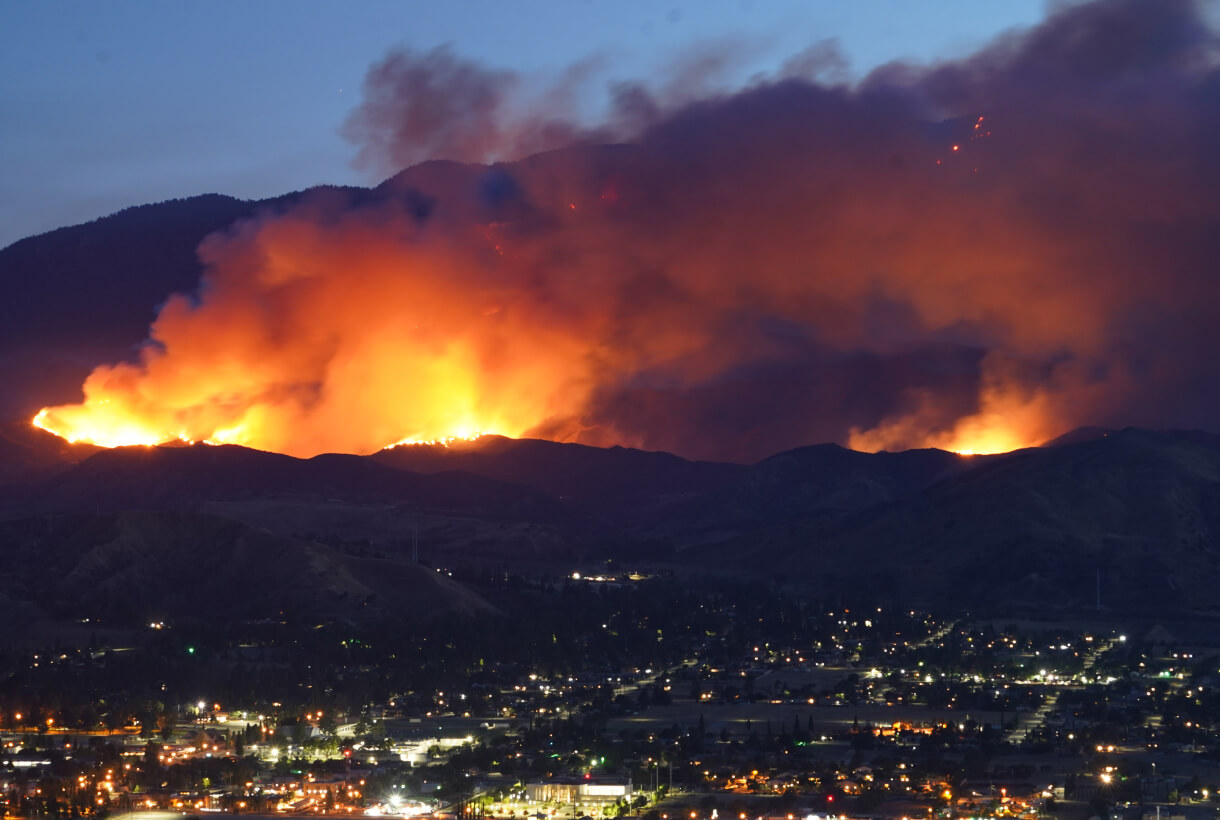 A key part of your disaster planning is a reliable, automated mass notification system to inform and protect your people, places and property. Follow these 10 tips.
3. Prepare People to Properly Respond
Businesses need to stay in-step with local law enforcement (and vice versa) to make sure people stay informed and safe. When a wildfire breaks out, firefighters and business leaders need the ability to collaborate and communicate in real time with their teams. The ability to mobilize responders or activate crisis response teams quickly is critical.
Response and evacuation plans can be easily shared and accessed on different devices, and alert senders can communicate two-ways with recipients to evaluate their position and adjust instructions as the event unfolds. Real-time analytics provide actionable information leaders can use to make fast decisions to ensure people's safety.
Organizations should also be conducting exercises to test their incident management procedures and the technology that supports it. Taking these steps ahead of time will help eliminate delays should a real wildfire occur and identify any gaps in response that need to be addressed.
4. Know That Recovery Requires Staying the Course
When the smoke clears, recovery efforts will be ongoing. Damage to homes and businesses, local road closures and utility interruptions are common challenges.
Keeping residents and employees updated can alleviate stress and prevent them from returning home before it's safe. Once that time comes, they'll need resources and guidance to recover belongings, make repairs, get children back to school and return to work.
Responding to wildfires is a communal effort. The right technology can make it easier and more impactful. A platform to support responding to physical threats makes it easy to keep residents, businesses and other community stakeholders informed on progress. It's all part of speeding recovery and increasing resilience.
To learn more, download the Wildfire Preparedness Kit from OnSolve.
*The 2023 OnSolve Global Risk Impact Report outlines the top risks that have occurred as a percentage of all events OnSolve detected from January 1, 2021, to December 31, 2022, that had the potential to impact its customers worldwide. The data in this report was gathered using OnSolve Risk Intelligence, an AI-powered technology that monitors over 50 risk categories of physical threats across 159 countries in real time. OnSolve Risk Intelligence detected more than nine million global events, or physical threats, from 2021 to 2022, using AI and analyst-vetted information pulled from data sources that include local fire, police and emergency medical services departments; weather reports and alerts from government and non-government, verified sources; federal government agencies such as the Federal Bureau of Investigation, Department of Homeland Security and other crisis management entities; local, national and international news; and critical event reports from verified social media feeds. OnSolve Risk Intelligence monitors global physical threats that have an impact on its 30,000 customer base, which consists of more than half of the Fortune 100, nearly half of the Fortune 500 and 10,000 communities in the U.S., including state, regional, local and federal entities. OnSolve programmatically maps events to locations worldwide, determining which part of an organization might be at risk. This report aggregates to a country-level view year over year of the physical threats specific to our customers' people and operations across their offices, plants, warehouses and office locations, and while traveling worldwide. It highlights the most significant risks impacting businesses and governments when 2022 is compared to 2021.