An incoming storm causes a power outage, impacting a hospital's ability to provide life-saving care in a sterile environment.
An active assailant enters a hospital campus, and security teams struggle to secure the building and inform staff and patients.
And, of course, there's the ever-present concerns about another pandemic.
Issues such as these are becoming a top priority for C-suite leaders in healthcare. When asked about their top perceived threats, 39 percent of healthcare CEOs surveyed cited extreme weather and public health, according to the 2023 OnSolve Global Risk Impact Report.
The research findings support those concerns. Extreme weather events rose 42 percent in the U.S. from 2021 to 2022. Additionally, healthcare respondents named public health (47 percent) and crime (33 percent) as the top two physical disasters their organizations experienced in the last three years.
What else does the data show, and how can risk managers in the healthcare sector use it to create a safer and more productive workplace?
Call Out Shared Concerns
Employees and employers are both worried about safety and security, in the physical sense as well as a financial one.
Almost half (47 percent) of healthcare respondents said preparing for a physical threat crisis that puts employees or operations at risk is a top priority in 2023. Employers want to keep their people safe and productive.
Despite these goals, one out of three healthcare CEOs surveyed for the Global Risk Impact Report said their current crisis mitigation plans aren't effective at keeping employees safe and operations running. The data also tells us employees are feeling the impact. The majority of employees reported minimal confidence in their employer's ability to keep them safe during adverse events and less than minimal confidence during travel, according to an employee safety survey initiated by OnSolve*.
Confidence in workplace safety feeds into:
Productivity
Turnover
Recruitment
Reputation
Risk managers need to determine the barriers to moving beyond this discrepancy.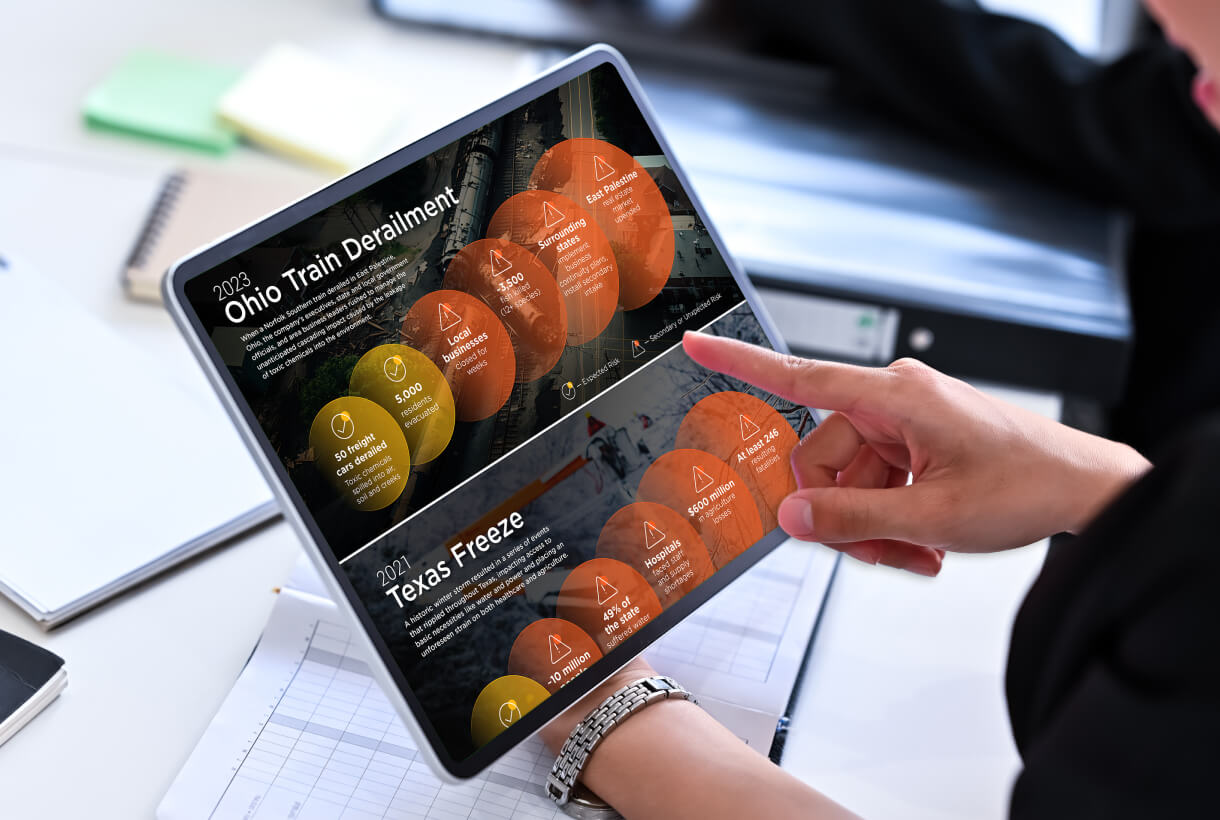 Does your organization understand the nature of dynamic risk and how to assess its potential impact? Learn more about the unexpected ripple effects of risk with these real-world examples and how your organization can prepare.
Dial into the Disconnect
More than half of CEOs surveyed (51 percent) across all industries recognize their employees share more concerns about physical security since the onset of the COVID-19 pandemic, according to the Global Risk Impact Report. Despite the mutual worry, actions to address it have been minimal.
When reflecting on past critical events, most CEOs report they had some form of strategy in place. However:
62 percent said it had only some or little to no effect on mitigating impact.
Only 42 percent had a plan and updated it after an incident occurred.
These numbers demonstrate that not enough planning has been put in place, and the limited planning that does exist isn't effective. In fact, more than half (60 percent) of CEOs have no plan to address all the most severe physical threats to their business. Even when it comes to severe weather, which tops the list, only 37 percent of CEOs have a defined strategy. Specific to healthcare crises, one out of five reported they had no mitigation plan in place at the time of occurrence.
To keep healthcare workers safe, something has to change. At a time when there's an app for everything, a critical event management solution is actually close at hand.
Take Advantage of Technology
OnSolve data shows that 93 percent of CEOs believe technology would help protect their employees and operations from physical threats. However, only 26 percent have invested in technology for that purpose. Security leaders should seize the opportunity to lead a dialogue with C-suite leadership to help them understand the top threats to their operations and the value of leveraging technology in risk mitigation.
In the hectic world of healthcare, a unified platform for critical event management with a simple and intuitive interface can deliver:
Real-time Data: When every minute counts and circumstances are changing around the clock, leaders and staff need information they can rely on. Powerful AI automatically sorts the data to minimize mistakes and maximize relevance. One hospital has used it to enhance operational agility across their security teams. Reliable risk intelligence instills confidence.
Consistent Connection: The ability to get the right information to the right people at the right time ensures everyone can operate safely. With a polling feature, employees can give feedback on their status so employers know who's safe and who may need assistance. Dependable critical communications build trust.
Accelerated Response: With a big-picture overview at a glance, leaders can make more informed decisions for the safety of providers and patients alike. Disaster response teams can better triage their efforts when they have advanced awareness of an unfolding critical event and its cascading effects. User-friendly incident management supports efficiency.
The data from the 2023 OnSolve Global Risk Impact Report illustrates how much room for improvement there is in healthcare safety planning. A proactive approach supported by the right technology will help risk managers in this sector overcome today's challenges and plan for a safer, more secure future.
Read the full report to learn more.
*Data is from an employee safety survey OnSolve initiated of more than 600 U.S. employees across several industries.