When asked about the greatest threats to their business, 36 percent of manufacturing CEOs identified infrastructure failure at the top of the list. It's not surprising when you look at recent trends. Infrastructure and technology failures rose 807 percent in the U.S. from 2021 to 2022, according to the 2023 OnSolve Global Risk Impact Report.* In some states the increase was even more dramatic, such as South Carolina, where this risk (including power outages) increased by 1,716 percent.
In addition to storm-induced infrastructure problems, power grid attacks are also becoming more frequent. Attacks rose approximately 71 percent in 2022 compared to 2021 and are expected to continue to increase in 2023, as estimated by the North American Electric Reliability Corporation.
To help their C-suite get ahead of these looming threats, risk managers in the manufacturing industry need a better way to understand, detect and respond to infrastructure and technology failures. Here are three ways to protect your manufacturing line, facility uptime and, ultimately, revenue.
1. Invest in Accurate Detection and Analysis.
Aging infrastructure has many potential points of failure. An estimated 70 percent of the nation's transmission lines are over 25 years old, and this makes American communities, critical infrastructure and economic interests vulnerable, according to the White House.
This vulnerability doesn't have to result in catastrophe – forewarned is forearmed. By investing in risk intelligence, manufacturers will be better equipped to keep their people safe and their operations running.
This technology can help manufacturers more accurately assess potential threats to their networks, equipment and people. It also provides insights into how operations may be affected by various levels of infrastructure interruption. Armed with this information, manufacturing leaders can proactively troubleshoot and create preemptive contingency plans.
Relevance is key. Today's powerful artificial intelligence (AI) filters data from verified sources to deliver the most important information, when it's needed most, to help manufacturers:
Detect physical threats in real time, and identify how they could impact suppliers, warehouses, fleets and ships.
Make informed decisions on alternate routes, equipment and methods.
Predict the types of physical threats known to disrupt operations and activate backup plans.
Use data to drive potential course-of-action strategies and improve results year-over-year.
Leverage historical risk data to determine potential plant location expansion, whether to permanently change suppliers, fleets or third-party vendors, and more.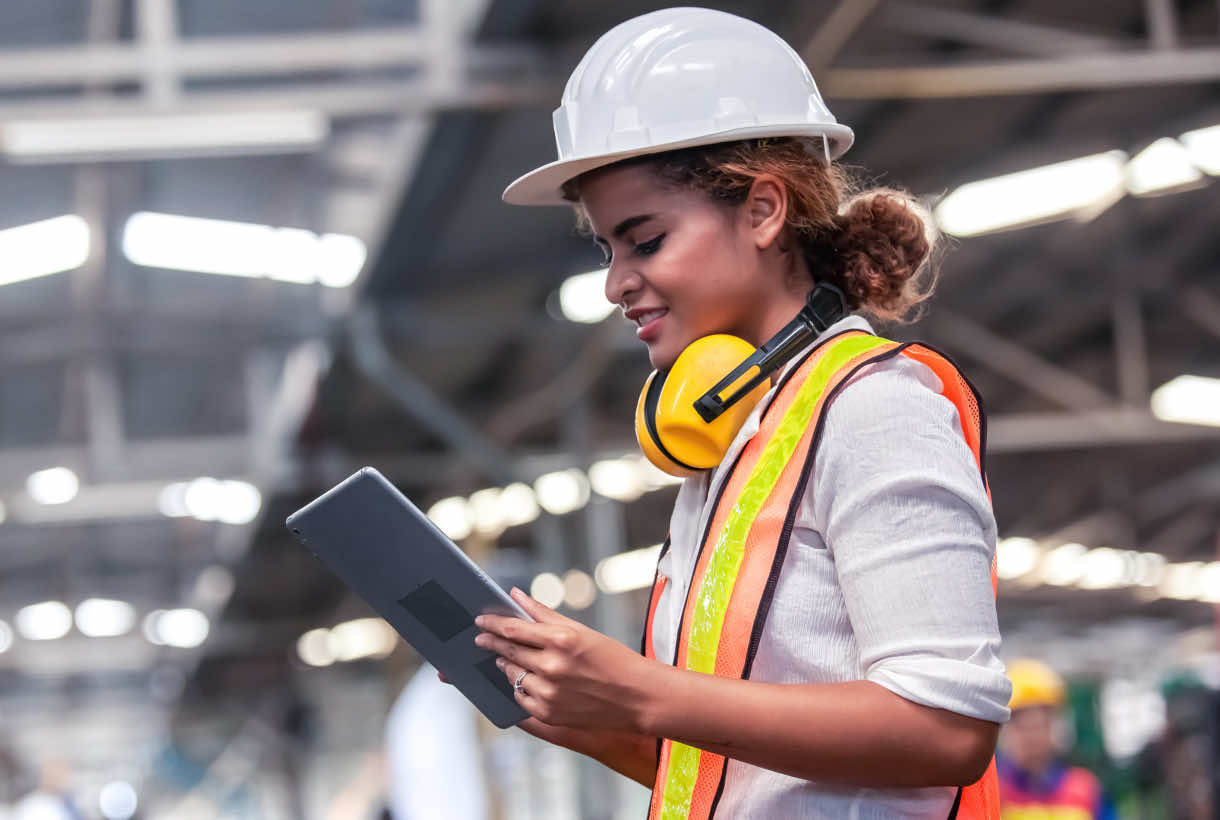 Find out how OnSolve Critical Communications safeguards your workforce while saving time, effort and money.
2. Leverage User-Friendly Communications Technology.
When asked about their top priority, preparing for a physical crisis that puts employees or operations at risk was cited by almost half of manufacturing respondents. Yet, one out of four said their current crisis mitigation plans aren't effective at keeping employees safe or operations running. In the highly physical domain of manufacturing, an infrastructure failure can result in significant property damage, injuries and even loss of life. It's essential to optimize communications. By keeping everyone informed, aware and vigilant, these outcomes can be prevented on the production line.
In addition to the immediate impact, continuing operations amidst ongoing catastrophes such as a gas pipe rupture or a train derailment can put a strain on all employees. During these stressful times, they need a way to stay connected that's simple and convenient. Sending alerts, exchanging two-way communications and even making ongoing scheduling changes should take no more than a few clicks on a mobile device.
With a critical communications system that features an intuitive interface, staff and management can focus on executing their responsibilities, rather than trying to figure out the technology. It should be easy for users to send out a targeted alert to notify about a plant closure, scheduling changes or an approaching winter storm.
3. Prioritize Efficient Planning to Speed Incident Response.
When a power grid goes out or a major bridge becomes impassible, the repercussions are widespread. Supply chain disruptions are an all-too-common result, and they can be devastating to manufacturers' business continuity. In fact, 35 percent of CEOs across all industries identified supply chain disruption as their top priority, according to the Global Risk Impact Report.
Despite how often infrastructure failures contribute to this very risk, the report found only 29 percent of CEOs have a plan to address them. To manage these critical events, manufacturing leaders must be able to pivot swiftly. Creating efficient plans and then fortifying them with incident management technology can speed up the process and help stabilize operations. When a critical event occurs, the incident management system makes it easy to activate response teams. It also incorporates analytics for better decision-making throughout the course of an emergency.
One national food manufacturer experienced these benefits after upgrading their incident management technology. Not only were they able to shorten mean-time-to-resolution, but they also minimized disruptions to revenue while preserving their reputational integrity. These are major advantages during an infrastructure failure when every stakeholder is on edge and every minute counts. In dynamic situations, the right platform will help manufacturers:
Adapt to complex workflows.
Deliver cascading alerts and escalations.
Utilize conference bridge connections.
A key finding from the Global Risk Impact Report is that up to 10 physical threats can occur every minute. When infrastructure fails, don't throw a gasket. Now's the time to get ready in advance. The OnSolve Platform for Critical Event Management helps manufacturing go full steam ahead. Integrated technology featuring a user-friendly interface and a dashboard view makes managing every critical event more feasible and more streamlined.
Ready to see it all in action? Contact OnSolve to schedule a demo.
*The 2023 OnSolve Global Risk Impact Report outlines the top risks that have occurred as a percentage of all events OnSolve detected from January 1, 2021, to December 31, 2022, that had the potential to impact its customers worldwide. The data in this report was gathered using OnSolve Risk Intelligence, an AI-powered technology that monitors over 50 risk categories of physical threats across 159 countries in real time. OnSolve Risk Intelligence detected more than nine million global events, or physical threats, from 2021 to 2022, using AI and analyst-vetted information pulled from data sources that include local fire, police and emergency medical services departments; weather reports and alerts from government and non-government, verified sources; federal government agencies such as the Federal Bureau of Investigation, Department of Homeland Security and other crisis management entities; local, national and international news; and critical event reports from verified social media feeds. OnSolve Risk Intelligence monitors global physical threats that have an impact on its 30,000 customer base, which consists of more than half of the Fortune 100, nearly half of the Fortune 500 and 10,000 communities in the U.S., including state, regional, local and federal entities. OnSolve programmatically maps events to locations worldwide, determining which part of an organization might be at risk. This report aggregates to a country-level view year over year of the physical threats specific to our customers' people and operations across their offices, plants, warehouses and office locations, and while traveling worldwide. It highlights the most significant risks impacting businesses and governments when 2022 is compared to 2021.