The longer the daily stream of global incident data grows, the clearer it becomes: The old ways of managing critical events are falling short.
The best and brightest security analysts on the planet simply can't keep up with the massive volumes of incident data they have to sift through to achieve even a basic level of awareness. There's just too much noise – and not nearly enough clarity, confidence or control.
If you're reading this, chances are you've been there. So, if your critical event management (CEM) platform is underperforming, what is the solution? In this post, we'll explain the three essential types of intelligence you need for effective CEM, now and into the future.
#1: Risk Intelligence
It all starts with risk intelligence. That's how businesses gain an understanding of the events that pose a threat to their people and assets or how emergency managers know the risks to public safety.
The best risk intelligence solution is relevant and reliable. And the best way to achieve it is via artificial intelligence (AI).
For true AI-powered risk intelligence, you need a solution that can collect complex data, track feeds from myriad sources, cut through the clutter and issue reports you can act on in real time.
Since 2000, three key changes have pushed data complexity to a point beyond human ability to keep up:
Broader scope. Global business operations and complex, just-in-time supply chains now require many organizations to monitor critical events not just at home but around the world.
Event volume. Critical events have grown more frequent and more intense. From man-made events like political unrest to natural disasters like wildfires, there's more to monitor and more at risk.
Data explosion. Exponential growth in data and data sources combined with a 24/7 news cycle means an overwhelming amount of information to sort through and synthesize.
Traditional one-dimensional monitoring simply can't compete with AI-powered risk intelligence on speed, coverage or accuracy. Bottom line: You can't get the data you need or react fast enough.
AI-driven risk intelligence uses machine learning and algorithms to scan data sources for signs of adverse events and identify patterns in large datasets. The more it learns, the smarter and faster the solution becomes.
#2: Augmented Intelligence
Nobody wins if security analysts can't succeed at their jobs.
And yet that's exactly what's happening as the daily influx of data grows and it gets harder and harder to track, aggregate and correlate critical events to your organization or agency. Consider the sheer data volume security analysts now confront on a daily basis: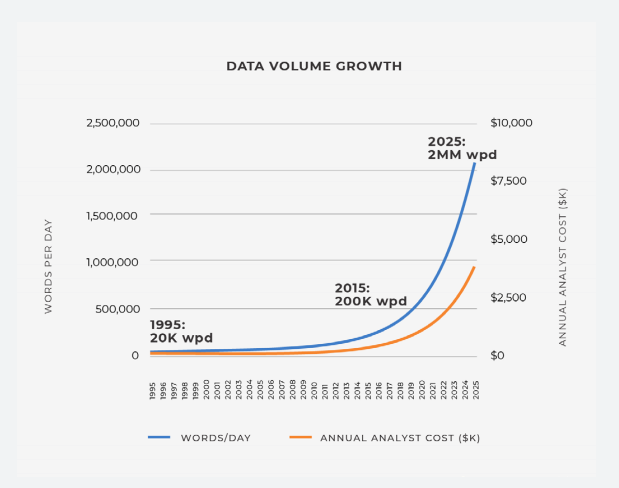 In today's world, you can't afford to miss anything, but you also can't afford to hire the number of analysts necessary to solve the problem.
An emphasis on "augmented intelligence" means your CEM platform is committed to helping analysts to work smarter. OnSolve's risk intelligence solution uses AI to check the reliability and validity of every source — government, weather and geological services, local and international press, social media and more.
AI is no more than machines learning and developing intelligence. But when we take that AI and create intelligence from it, we're helping humans make more informed decisions. We're augmenting or enhancing the intelligence we provide to give humans a better understanding of the situation. And better information leads not only to better decisions but better outcomes.
OnSolve Risk Intelligence™ provides targeted and cross-referenced intelligence based on a global network of verified data sources and 53 classes of critical events worldwide. It gives analysts a valuable data tool that improves both the quality of their information and their ability to respond to it.
#3: Actionable Intelligence
When you have fast, accurate and relevant intelligence, you have "actionable intelligence."
Everyone from your analysts to your boots-on-the-ground response teams knows what's happening now, what to expect downstream and how to respond every step of the way.
They know how critical events will impact people, places and property, and they can use their intelligence to take decisive real-time action.
At OnSolve, we define actionable intelligence as information that's comprehensive, validated, correlated and timely. Stated as a formula, it looks like this:
(Coverage + Accuracy + Correlation) * Speed = Actionable Intelligence
The OnSolve Platform for Critical Event Management™ gives you a proven formula for actionable intelligence that lets you respond in time to secure and protect what matters.
We also help you visualize that intelligence by providing dynamic maps of your facilities, logistics, and personnel movements. It's another layer of understanding that lets your team see potential impacts at a glance and respond proactively.
OnSolve delivers the intelligence modern-day critical event management platforms need. Learn more about our platform and the clarity, confidence and control it can bring to your crisis response processes on our CEM resource page here.